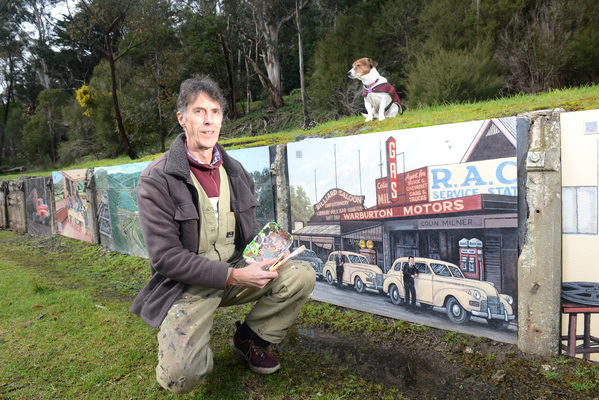 By KATH GANNAWAY
WITH plans to officially launch the Warburton Train Station Mural Project in December, a call is going out for input into the final six panels.
Among the 43 panels completed by local artist Peter van Breugel are landmark buildings such as the Sanitarium Weet-Bix factory, guesthouses and the old Martyrs bus depot. The timber industry, iconic Yarra River bridges and local identities also feature.
Instigator of the project, Norm Orr, is now encouraging Warburton residents, past and present, to help complete the series.
"We're looking for people to book a mural which should have something to do with Warburton and can be sponsored by a family or commemorated to someone," he said.
Mr van Breugel came on board with the project in 2012 with the first mural depicting the last train into Warburton on 1 August, 1965.
"That got the attention to attract sponsors and also showed that the murals were going to be decent works," he said.
The initial murals were painted directly onto the concrete wall, but the later ones are on heavy cement sheeting, completed in the more comfortable workspace of Mr van Breugel's studio and then attached to the wall.
Mr Orr said the launch would include the unveiling of the 'crowning glory' of the series, an honour board depicting 20 faces of people who have helped shape Warburton.
A souvenir brochure featuring the murals and promoting Warburton will also be launched.
Anyone who would like to be part of one of the town's feature attractions, tracing the heritage, history and people of the town, can contact Mr Orr on 0408 592 504.