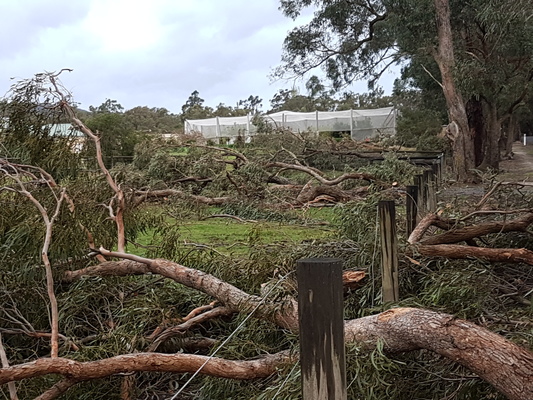 By Jesse Graham
POWERFUL winds wreaked havoc in the Yarra Valley over the weekend, uprooting trees, knocking out power lines and injuring residents.
Winds of up to 120km/h lashed the state on Sunday 9 October, causing widespread damage to houses and power lines, leaving thousands of homes without power.
A Millgrove woman, 56, was killed when a tree fell on her property in Adrienne Court – emergency services members attended the scene, but could not revive her.
Healesville police Leading Senior Constable Cliff Argus said the winds were some of the worst he had seen in the area, and that officers were working overtime to help clear fallen trees from roads.
"We attended dozens of calls in relation to trees and power lines down, blocking roads and causing damage," he said.
"Fortunately for us, nothing involving any people or injuries, so that was good."
He said areas such as the Black Spur and Myers Creek Road had been cut off because of falling trees, with the spur not expected to open until Monday evening.
Other roads, including the Healesville-Yarra Glen Road, were impacted by falling trees.
In the Upper Yarra area, a police car was destroyed by a falling tree when emergency services were called out to help rescue three people in Don Valley.
Warburton police Leading Senior Constable Tony Pagels said that at 3.30pm, a falling tree injured three people who were working to clear debris on Don Road.
While police and SES were at the scene, a tree fell on a nearby car and a police car, damaging both vehicles.
One of the injured was taken to hospital by ambulance with serious injuries, while the other two were taken to hospital later.
In Badger Creek, a woman in her nineties was taken to Maroondah Hospital in a stable condition after her roof collapsed about 9.20am.
On Monday morning, power remained out in many areas of the Yarra Valley and surrounds.
AusNet Services' Corporate Relations representative Hugo Armstrong said the Yarra Valley and Dandenong Ranges were the worst affected parts of the state from the storm.
Mr Armstrong said crews had been working through the night to restore power to Woori Yallock and Belgrave's substations, but that power was not likely to be restored to all affected properties until Tuesday night.
Of the 38,062 properties without power by 2pm on Monday 10 October, Mr Armstrong said the majority were in the area between Kinglake and Pakenham.
"As always, the combination of higher land, lots of trees and a large number of people means that significant parts of the Upper Yarra Valley have been off supply since yesterday lunchtime and remain off supply," Mr Armstrong said.
"The short answer is we got very large amounts of trees across lines and network damage yesterday afternoon, and more issues have continued to come to light since then."
Though he encouraged residents to make AusNet aware of fallen power lines, Mr Armstrong said residents should not call to get an estimate of when their power would return, as they were likely to get stuck in a call queue and not get a precise answer.
"We can't give time estimates," Mr Armstrong said.
Mr Armstrong said that, with many properties not having access to power for more than 24 hours, residents should consider relocating, if possible, to somewhere with power.
He also urged residents to be aware of elderly or vulnerable neighbours who may also be without power and to check on their welfare.