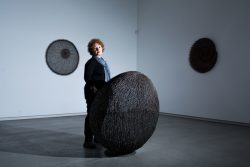 By Jesse Graham
Music inspired by the sculptures of Bronwyn Oliver will be performed in the halls of TarraWarra Museum of Art on 22 January, with the exhibition entering its final weeks.
Multi-instrumentalist and composer Rosie Westbrook will perform a series of compositions, inspired by the sculpture work of the late Bronwyn Oliver displayed in the museum, from 2-4pm on Sunday, 22 January.
Ms Westbrook's performance follows a previous show at TWMA, to commemorate the Howard Arkley and Friends exhibition in January 2016.
The event description on TWMA's website describes her work as "minimal yet highly emotional soundscapes'.
"Layers of delicate guitar and the unearthly sounds of the double bass will echo through the gallery in tandem with the patterns and shadowy images of Oliver's work," the description for the event reads.
The exhibition has been on display since Sunday, 21 November, and was described by curator Julie Ewington as the first "major survey exhibition" of Oliver's work since her death in 2006.
Pieces have been gathered from collections around the country, with more than 50 works spanning 1984-2006 in the ever-changing halls of the gallery.
Many of the pieces use copper wiring, weaved and welded to create forms that look different under different lighting and from different angles.
"From very early on, I think from 1988, she worked out that the lighting should be considered as part of the work, and very often there are quite specific instructions, saying only light from one source – so it gets a particular shadow, and that shadow, behind the form itself, is considered part of the work," Ms Ewington said.
You've got to circumnavigate the works," she said.
"You can't touch, but you've got to circumnavigate, and the great pleasure is just seeing them from different angles and seeing the way the light falls through them."
TarraWarra Museum of Art is located at 311 Healesville-Yarra Glen Road, Healesville, and is open from 11am-5pm Tuesday-Sunday.
Entry is $12 for adults, $10 for seniors, $8 for pensioners and students and children under 12 receive free entry – the concert is free with entry to the museum.
The Sculpture of Bronwyn Oliver exhibition finishes on 5 February, with an exhibition featuring the works of Melbourne painter Louise Hearman opening on 18 February.