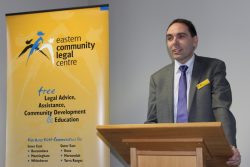 By Kath Gannaway
"It's bloody hard to run this service as it is, without standing around two months out wondering whether you have enough money to keep operating what is an absolutely critical service."
Cr Fiona McAllister received unanimous support from councillors at the Yarra Ranges Council meeting on Tuesday 14 March for an urgent motion to secure ongoing funding, for the Yarra Ranges Community Legal Centre.
The legal provides a range of legal services at Healesville and through outreach services at Yarra Junction and Lilydale.
Eastern Community Legal Centre which operates the Yarra Ranges service has flagged that a Federal Government cut of 30 per cent to the sector, over $3 million in Victoria, places the extended service at risk.
The State Government has also weighed in with Attorney-General Martin Pakula urging the Commonwealth last week to reverse what he labelled a "cruel decision".
The cuts take effect in July, but Federal MP for Casey, Tony Smith, has told the Mail that under a new federal-state agreement, it is the State Government that determines the level of funding for each community legal centre.
He said under the agreement, the Federal Government was not able to direct funding to specific community legal centres.
Cr McAllister said the cuts would equate to around $250,000 to ECLC with the Yarra Ranges most likely to suffer.
"It's not certain … it's all a bit up in the air at the moment in terms of funding, but it's looking like it will have significant impact and put into question their ability to continue funding Healesville," she said.
"I'm asking, once again, that we run an advocacy campaign and get funding certainty."
Cr Jim Child spoke of the benefit to residents of the Upper Yarra communities, saying he experienced on a weekly basis the need for what he said was an extremely valuable service for vulnerable people in the community.
He said although very small in terms of manpower, the centre's contribution was huge.
"In a legal system that many of our vulnerable people just can't afford, they can go to this organisation and be helped with their concerns," he said.
In the past two and a half years the part-time centre had supported over 500 clients, provided around 600 legal advices and reached a further 530 people through community legal education.
Funding was cut in 2014 and re-instated in 2015 after MP Tony Smith lobbied his government for the funding.
In response to the current threat, Tony Smith said in addition to the $400,000 rescue back then, $350,000 had been funded to ECLC under the Women's Safety Package.
ECLC CEO Michael Smith acknowledged the $350,000 funding, but said it was not specific to the Yarra Ranges operation, but for the entire ECLC.
"It does help in Yarra Ranges, but it is also for a specific program."
He said Tony Smith's response ignored the overall cut to community legal centre funding.
"Cutting 30 per cent off the funding to Victoria, over $3 million, it's a bit rough for federal MPs to then ask the state to make a decision on what they have left to give out," he said.
"There's no reason why the Federal Government could not give more money to our centre, or any centre, we know that because they gave us new money, and they gave that directly," he added.
Yarra Ranges Council will write to the Australian Attorney-General George Brandis, Tony Smith MP, and La Trobe MP Jason Wood, requesting that the Federal Government commit funding on an ongoing basis to support the Yarra Ranges Community Legal Centre.