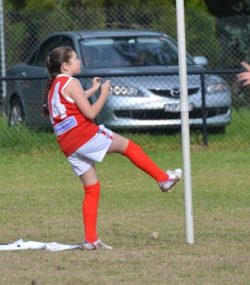 The Eastern Region Girls Football League kicked off the home and away rounds this week.
This season has an AFL Yarra Ranges division in Under 12s for the first time.
The Healesville girls travelled to Belgrave to play the home team.
It was a tough start to the season, with players missing due to school holidays and injury.
The girls showed great endeavour from the start, with strong tackles, and went into the first break one goal down.
The backline was under constant pressure throughout the second quarter with Belgrave managing to score five goals to one, despite the efforts of the backline.
In the third quarter, Healesville contained the Belgrave attack, restricting them to a single goal and outscoring them in the quarter.
They also showed some good kicking and marking skills during the quarter to move the ball from one end of the ground to other without Belgrave touching the ball.
Tired legs in the final quarter started to take its toll and Belgrave ran away with the game.
Well done to the girls with half the team playing their first game.
The scoreline didn't do the girls justice in the effort they all put in during the game.
Girls' football in the region is on the rise with the Healesville Auskick clinic now having an all-girls group on Saturday mornings and the juniors running a Come and Try Clinic on Wednesday 5 April from 10.30am to noon for Grade 5 and 6 girls.
Future sessions will be run later in the year by the club for other age groups.
Under 12s Girls
Healesville 5.5(35) def by Belgrave 13.6(84)
Goals: M. Sikorski, N. O'Brien, K. Willemsen.
Awards: M. Sikorski, K. Willemsen.