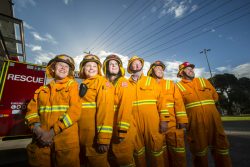 By Kath Gannaway
GOOD news from Wandin CFA captain Tim Michelson.
You don't have to be super-human to be a CFA volunteer.
"That myth that fire-fighters are super human … we have to get rid of that," he said as the brigade heads into a two-month recruitment campaign.
"They're just everyday people who want to help out and that's who we're looking for right now," he said.
Captain Michelson said there are as many roles to be filled as there are people of different interests, skills, ages and motivation for wanting to get involved.
"I'm looking for people 18 to 70 who live in the local area and if they're around through the day, that's a bonus," he said.
He said as with most brigades in the Valley, they particularly need people who can respond during the day.
"We're doing well at the moment but that's mainly due to a few of our older members and we need to plan for the future.
"It takes about five years to train someone up to be a fully competent operator on the fire ground or on the rescue unit," he said.
The brigade is also about to embark on steep angle rope rescue, an even more specialised addition to their rescue work and a highly skills-based field that can take several years of training to produce a competent operator.
Captain Michelson acknowledges that CFA volunteers are asked to make a huge commitment, but says in terms of time and the roles they can take on, there is also great flexibility and recognition of the individual circumstances in terms of time, other responsibilities and personal suitability for particular roles.
"If going out to a car crash is not something a person feels they can do, they can go on the fire group," he said.
"They don't have to be frontline troops. There are other jobs in communications and logistics, we have people catering, handing out water, looking after the public and spreading the fire safety message through summer and winter."
And there is no obligation to sign up.
"They're certainly not wasting our time. We're not the army – if CFA doesn't fit for whatever reason, it's just a simple conversation and everyone moves on," he said.
The brigade will be holding special events over the next two months, including an activity at the Wandin North shopping strip on Saturday, 20 May.
Anyone interested in finding out more about life as a Wandin CFA volunteer can call in to the station between 7.30pm and 10pm on Wednesdays or 9am and 11am on Sundays, or phone Captain Michelson on 0438 160 680.