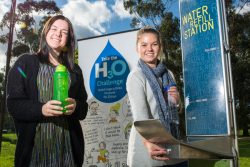 By Derek Schlennstedt
Yarra Ranges Council is urging residents to trade in the sugary drinks for water.
Residents of all ages are being asked to take on a month without sugary drinks as part of VicHealth's H30 challenge.
The challenge invites people to sign up at h30challenge.com.au/lga/yarraranges and nominate a 30-day period where they will pledge to drink water instead of sugary drinks, soft drinks, sports drinks or fruit juices.
Yarra Ranges Council received a VicHealth grant to promote the H30 Challenge to residents and visitors, and will be placing promotional materials in Community Links and council buildings across the municipality.
VicHealth CEO Jerril Rechter welcomed council's involvement in the H30 Challenge, and said swapping sugary drinks for water could reduce the risk of weight gain, diabetes and cardiovascular disease.
"The H30 Challenge costs nothing and could make a big impact on your life," she said.
"A regular 600ml bottle of soft drink contains about 16 teaspoons of sugar and there are around 11 teaspoons of sugar in a sports drink.
"You wouldn't put this much sugar in your morning coffee yet many people are unknowingly consuming such high amounts on a daily basis.
"With nearly two-thirds of Victorians currently overweight or obese, reducing intake of excess kilojoules through sugary drinks is one way to promote a healthier diet and improve health, prevent tooth decay – and save money."
The World Health Organisation recommends daily intake of sugar to be less than 10 per cent of daily energy intake – about 50 grams or 12 teaspoons.
Flavoured water is discouraged as part of the challenge, with some 500ml vitamin drinks containing up to six teaspoons of sugar.
Residents signing up can collect a free H30 water bottle at Community Links in Healesville, Monbulk and Yarra Junction.
For a map of Yarra Valley Water's Water Refill Stations, download the Choose Tap app from yvw.com.au.