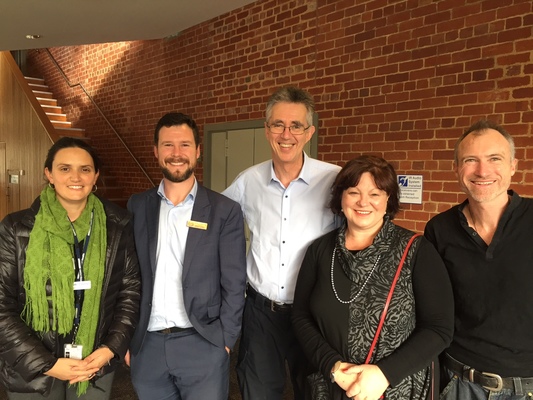 By Derek Schlennstedt
Well-known parent educator and author, Steve Biddulph, presented a sold-out crowd at Memo Hall in Healesville over the weekend on Saturday 24 June.
The talk came as part of Eastern Health's and Badger Creek Primary School's Change the Story project, which focuses on preventing violence through empowering women's decision-making and independence.
It also challenged men's condoning of violence and strengthened equal and respectful relationships.
"It is a pivotal time for health services to collaborate with community groups and schools, to work together to challenge gender stereotypes around what boys and girls should be like," said Eastern Health Senior Health Promotion officer Josette O'Donnell.
"Together we need to raise strong and respectful girls and boys, so that they become men and women in a community where violence is not acceptable."
"The power of the project is that community members are empowered to take a stand and implement changes to prevent family violence."
Mr Biddulph's talk comes after statistics from the Daniel Andrews Government showed domestic violence incidents in the Yarra Valley had grown from 1052 in 2011 to 1632 in 2016.
The project by Eastern Health and Mr Crawford at Badger Creek Primary hopes to identify these statistics and help to reduce them in the future.
Mr Crawford said the project was promoting extremely important messages regarding the prevention of family violence within the community.
"We are in the process of identifying parents to further drive, promote and embed the valuable work within our community."
"The Change the Story project has provided us with the support, resources and platform to make a stand against family violence within our school," he said.