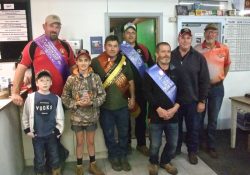 By John Wood
WOODS POINT GUN CLUB
A cold day greeted the competitors at the Woods Point Gun Club for the Maori Creek Championships and the Jodie Poile Memorial shoot.
A bit of a breeze and occasional showers kept the scores low but did not dampen the competition.
In the Eye Opener, Mick Ward won AA Grade outright with 29/30 while Daniel Chinn won A Grade with 30/30.
Tony Armstrong took the B Grade cash with 30/30 while C Grade was shared by Shawn Wood and John Winters, 27/30.
The first event was the Maori Creek 25 target Continental sponsored by John and Maxine Winters of Phudleys Jewellers.
Mick Ward continued his strong start to take the Championship sash and the AA Grade prize with a clean 25/25 to add to his impressive collection.
In the AA Grade shoot-off, Phillip Desmond beat Trevor Ewert for second place, 25/27.
A Grade saw Daniel Chinn and Ian Findlay go head to head with Chinn taking A first, 33/34 to Findlay second, 33/34.
Armstrong again put in a strong performance to take B Grade 24/26 after a short shoot off against Laurie Poile second, 23/26.
John Winter's 31/33 won him C Grade with John Legge second, 30/33.
After a warm and hearty lunch we launched into the Maori Creek 20 pair Deauville Doubles with team partners drawn randomly.
Fairly constant rain made shooting conditions uncomfortable but Chinn and Wood managed the best score of 18/20 pairs to take the event outright.
Ian Findlay and Legge took second place, 19/22 after a shoot off with the Michael Bevis/Mick Ward team, third 18/22.
Two of the oldies, Dave Hoon and Frank Balcombe, won the fourth place prizes, 15/20 pairs.
John and Maxine Winters also sponsored this event.
The day ended with the Jodie Poile 25 target Double Barrel Memorial Championship sponsored by Jodie's husband, Daniel Poile, and Daniel's parents, Laurie and Jo Poile.
Jodie was a vivacious young woman from the Upper Yarra who passed way in 2016 and left many happy memories in the lives of all who knew her.
This memorial event was fiercely contested but at the end Trevor Ewert shot the only perfect 25/25 to wear the sash.
Trevor also won the AA Grade prize with Mick Ward second, 28/29.
There were shoot offs for all of the other grades as well with Ian Findlay and Daniel Chinn taking A Grade first and second, 41/42 to 40/42 respectively.
In B Grade, Geoff Hill, 26/27 beat Tony Armstrong 25/27 while C Grade had Michael Bevis winning, 30/32, from Shawn Wood, 29/32.
A new young shooter, Nick Alimac, showed real potential by returning 20/25 in this event.
At the presentations, Ewert after a gracious speech gave the Memorial Sash to Kirsten Chinn who was a lifelong friend and best buddy of Jodie Poile.
There was hardly a dry eye in the clubroom.
Ward also won the Peter and Ellen West sponsored High Gun sash, 74/79, while at the other end of the spectrum Wayne Poole won Rob Bevis Low Gun with 43/70.
Next shoot at Woods Point is the Bernie Elstrek Memorial Championships on Sunday 22 October, starting at 10am.