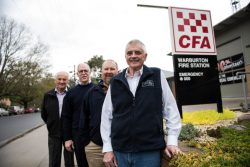 By Kath Gannaway
ABC Melbourne will broadcast live from the Warburton Fire Station on Sunday, 29 October as part of the brigade's open day.
The broadcast recognises an announcement that Warburton will have access to essential emergency information over the summer season via an ABC re-broadcasting antenna transmitting on 96.1FM
Warburton Valley residents will be able to tune into emergency radio broadcasts in the event of a major emergency such as bushfire or storm, thanks to the success of a community-driven project which has been able to secure the antenna on Mount Victoria.
Warburton Emergency Planning Group (WEPG) member Kevin Bargar said the new antenna which re-broadcasts ABC Melbourne could potentially save lives.
"Previously, feedback from Upper Yarra residents indicated that receiving timely emergency information was a problem for many people," Mr Bargar said.
He said Warburton had limited AM/FM radio coverage, mobile phone coverage black spots and lack of internet access.
"This re-broadcasting antenna will give the community the ability to get the information they need to stay safe and be as prepared as possible," he said.
He recommended that residents tune in to 96.1FM so that it's on their radar throughout summer.
WEPG has been advocating strongly for a permanent replacement for the temporary antenna made available after the 2009 bushfires.
"The radio signal can now be picked up by the transmitter and re-broadcast to the Upper Yarra region using FM radio," Mr Bargar said.
WEPG received a $20,000 grant from the Warburton and Yarra Junction Community Bank branches (Bendigo Bank) to fund the technology.
The service is designed to cover the Warburton Valley between Yarra Junction and Reefton, and will include the Upper Yarra Dam and Cambarville between Reefton and Marysville.
In 2015, following a visit by Victorian Premier Daniel Andrews and the declaration of Warburton as one of the highest bushfire risk locations in the state, the WEPG approached Emergency Management Victoria (EMV) to support the community with funding for the $25,000 needed to install the antenna and transmitter.
O'Shannassy Councillor Jim Child said Yarra Ranges Council had been working with the WEPG to co-ordinate and fund the feasibility, implementation and planning requirements to get the transmitter in place.
"This antenna will allow Warburton to maintain their resilience and receive much-needed information during a disaster.
"We are encouraging everyone in the community to come down to the Warburton CFA to be present at the live broadcast," he said.
Yarra Ranges Council provided funding for the project and additional in-kind support.
The tower owner TX Australia has agreed to subsidise the annual rental fees and council has committed to supporting the annual running costs of the service.
This summer, residents are being asked to tune into 96.1FM for all emergency broadcasting needs.
The Warburton CFA Open Day is on Sunday, 29 October from 10am to 3pm at the Warburton Fire Brigade station.