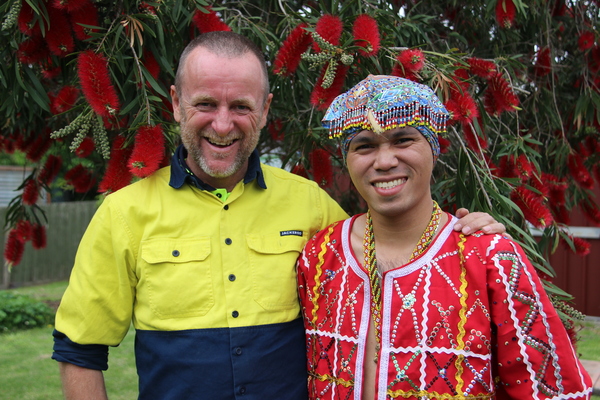 By Kath Gannaway
Roland Bayawan is the first of his community to do tertiary study and to travel to a country outside of the Philippines.
The 28-year-old from a small village in the Mindanao Island Group of the Philippines was a guest of Heartland Church in Yarra Glen recently, and returned to his community to share and build on his experiences.
Mike Baimbridge, a former pastor with Heartland who hosted Roland's visit, told the Mail this week that Roland was only home a short while before the island was lashed by the tropical storm 'Tembin' in December.
He said while tragically many lives were lost in the storm, Roland's village in the highlands was, thankfully, relatively unscathed.
Roland first met Mike during a visit to the island as part of a pastors' group.
Heartland has partnered with the village for six years implementing a number of sustainable projects starting with a small piggery which provided funds for some land to grow bananas, rubber trees and corn, leading to setting up a canteen in the local school, food parcels and building a co-op making affordable rice and other commodities available.
Mike recognised Roland as a leader.
He didn't start school until he was nine, and was going up into the mountains to get rubber to support his family, including eight siblings.
Mike said he had moved from an extremely subsistence lifestyle to running the projects as businesses, speaking in two or three churches and heading up youth work with three or four hundred people under him.
Along with his pastoral work, Roland is studying nursing and is very much aware of the power that has to inspire others.
His experience in Melbourne has been astounding. Just stepping onto an elevator, much less stepping out onto the glass floor of the Eureka Tower, have both terrified and excited him.
He describes the opportunity to live a very different lifestyle from the extreme poverty of his village as something that he can take back and build on.
"Before this experience, I always feel empty, but now I have had this kind of opportunity and I can say it is enough," he said.
"I am very satisfied with what I have done now."
He said he was extremely grateful to Mike for what he had taught him, and to the Heartland community which welcomed him into their church and homes.
"Our partnership and friendship that this guy has given, teaching me how to manage projects and helping me a lot with my communication … I can't thank him enough," he said.
In March, Roland will be qualified and earning a sustainable income, along with his preaching and other community work.
It's part of his vision for lifting his community from a subsistence living to one where others like him have opportunity.
"If you have a degree in my village, people use you as an example and inspiration. They will say 'if Roland did it, why can't I'.
"It takes time to make a difference, and even if you're younger and you have your elders, you can tell them that leadership is not about age, but about knowledge and experience, and about vision and determination," he said.