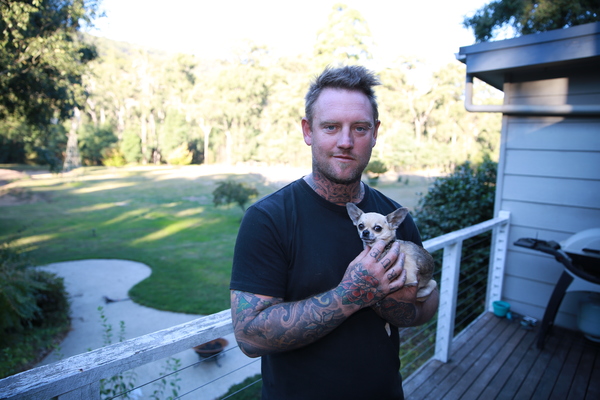 By Derek Schlennstedt
Living in Castella's bushy outskirts, Mitch Bartlett is used to seeing and hearing wildlife around his property.
Though, at 10am on 3 April Mr Bartlett heard a sound that he could not identify; the sound of a Wedge-tail Eagle attacking his 18 month old Chihuahua named Bear.
Mr Bartlett was out starting his water pump when he heard a noise reminiscent of a "baby bird feeding" coming from the bush along his boundary fence.
"I heard what sounded like a baby bird feeding and thought nothing of it … we have deer, platypus, and we hear the weirdest noises," Mr Bartlett said.
"I walked 10 metres or so into the bush and right beside me was a huge wedge-tailed eagle on the ground … i thought it had a rabbit at first but stopped and realised to my horror that it was my dog."
"I ran and screamed at it … it had her on the ground with its talons and was pecking."
"She's only like 1.9kg's so she is tiny and she was just howling … I thought she was dying."
The whole thing was over in a few seconds, but by the time Mr Bartlett had scared the eagle off, Bear had already sustained serious puncture wounds and injuries.
So extensive were the injuries that Mr Bartlett rushed the small dog to the Healesville emergency vet.
"She had blood everywhere," said Mr Bartlett.
"They x-rayed her and luckily she didn't have any broken bones but she had so much blood in her lungs, which they think was from being squashed by the talons."
"There were over a dozen odd puncture wounds into her skull, body everywhere, the worst is her back legs though, one of them is just dragging, … we're hoping it's just soft tissue damage."
Although she's looking a bit worse for wear at the moment, with stitches across her battered little body, Bear is expected to make a full recovery.
Mr Bartlett said he will have to keep the dogs on the deck until a permanent solution for their safety can be found.
"They've been running around happy as Larry for the last 18 months we've had them, but we have to keep them on the deck for now."
"You see a pair of wedge tails maybe monthly, but you never think they'd grab a dog."
The wedge-tailed eagle is a protected native species in all states of Australia.