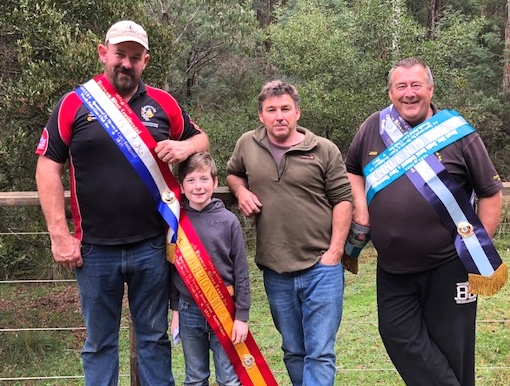 By John Wood
A cool and overcast Sunday greeted the shooters for the Howqua River Championships at the Woods Point Gun Club.
A Saturday working bee saw the clay target machine serviced by Daniel Chinn and David Frazer and throwing good targets for the shoot.
In the Continental Eye Opener the cash winners all shot 15/15 scores: Daniel Chinn and Trevor Ewert in AA Grade, Laurie Poile and Andrew Estcourt in A, John Winters in B with Kirsten Chinn taking C Grade.
The Steven and Cassie Bedggood sponsored Continental Championship was next.
Targets were thrown in random horizontal and vertical direction just to make things interesting. Ewert, Daniel Chinn and Mick Ward shot all 20 targets to go into a shoot off for the sash with Ewert winning, 25/25 to Chinn's 20/21 and Ward's 24/25.
In the Grades Ewert took AA with Ward 2nd. A Grade saw a win for Andrew Estcourt, 19/20, from Jim West, 18/20. Winters won B Grade, 19/20, Chuck Lay 2nd, 18/20 while Kirsten Chinn took the C Grade prize with 16/20.
Mick Ward sponsored the next event, 20 pair Double Rise with 2 targets thrown simultaneously and only one shot allowed at each target.
Andrew Estcourt returned a good 36/40 to win the championship outright and A Grade as well. Daniel Chinn was the winner of AA grade, 35/40, Ward 2nd, 34/40. Peter West was 2nd in A Grade, 24/40. A shoot off was needed in B Grade between Winters and Kaylene Estcourt with Kaylene successful, 37/50, Winters 2nd, 35/50.
Kirsten Chinn had a firm hold on C Grade all day, winning with 18/40.
The final event, 20 target tower was sponsored by Trevor and Jenah Ewert of Bushies Bakery, Glengarry with Trevor and Jim West the only shooters to return 20/20.
A short one target shoot off saw Ewert winning the sash 21/21 to West's 20/21.
Winters, Ward, Daryl Ewert, Andrew Estcourt, Peter West and David Caccioppoli from Tumut Gun Club (NSW), having each scored 19/20, shot off for the minor places with Caccioppoli taking 3rd, 37/38, Ward 4th, 36/38.
The Bedggood sponsored Howqua Overall High Gun for the day was won by Andrew Estcourt with a great 74/80 from a day of difficult targets.
A big pot of spicy Chili Conne Carne, Bushies delectable pies, pork spare ribs and other goodies plus the efficient potbelly stove kept everyone warm, well fed and happy.
The next shoot at Woods Point is the Tear Arse Gully Championships on Sunday 24th June, starting 10am.
See you there!