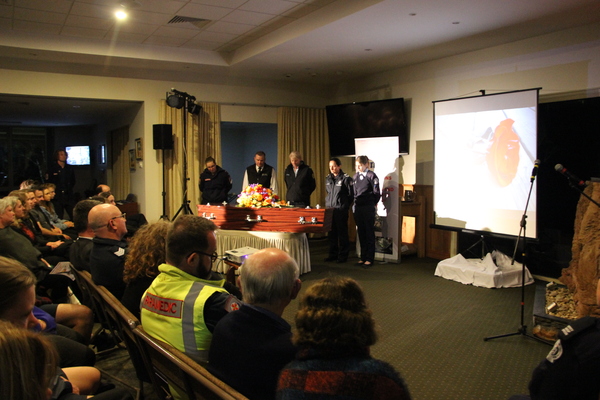 By Kath Gannaway
"One young life lost on our roads is unacceptable. Three young lives lost every year … please take a moment and just look around you. Are they here in the room tonight?"
Gruyere CFA volunteer Andrea Bigham was speaking to a room of around 500 people, many of them teenagers, at the 2018 Teenage Road Information Night (TRIP), held at Heritage & Heritage Funerals in Woori Yallock on Wednesday, 1 August.
The program, in its fifth year, is a combined response by Yarra Valley emergency services – CFA, SES, Police and Ambulance to the tragic loss of young lives on Yarra Ranges' roads.
The target audience is 16 to 25 year-olds and their parents.
As in previous years, there was a warning that some of the content would be graphic, and some just plain heartbreaking – and it was.
Lilydale Police Sergeant Grant Fereday introduced the program which included guest speakers
Paramedic Jason Callanan, Detective Sgt Mark Amos from the Major Collision Investigation Unit, Magistrate Tim Walsh and Sally Millar, the mother of Charlie Robertson who died in a crash at Launching Place on 10 April, 2015.
Ms Bigham spoke of the statistics, worldwide, nationally and in Yarra Ranges.
She focused on dangerous driving behaviours of which she said speeding was the most alarming and prolific with 5236 speeding fines handed out in 2017.
Showing crash locations from 2012 to 2017 in the age group of 18 to 25 she said 372 families and friends in Yarra Ranges had been directly impacted.
"But more tragically, in the last three years, for every year we have lost three young lives," she said posing the rhetorical question "How as a community can we accept these numbers?"
"We need to make a change because road trauma statistics are preventable."
TRIP Chair and Hillcrest CFA Captain Fiona Burns also spoke about behaviour change and asked everyone in the room to make a written pledge to make a change.
"We're asking you to tick three boxes you are going to adopt as good driving behaviours, whether it's about speeding, using your mobile phone, about tailgating, drinking or engaging in hoon behaviour," she said.
The pledges will be mailed back to each person in one month as a reminder of their commitment.
Cpt Burns urged people to speak up when they see driving behaviour that endangers life.
"I'd rather see you here tonight than out on a road somewhere because you need our services," she said.
"We will always come, even if we don't want to be there."
The four guest speakers also spoke about responsibility and consequences from very different and personal perspectives.
Their stories pulled together all the elements that start the ripple effect of road trauma that doesn't stop when the last ambulance leaves the scene, or when the MCIU detectives start measuring the glass-spattered road for braking speed, or in court when a magistrate or judge sums up what price to pay for a life, or when a mother tries to explain the unending pain and loss a family endures.
The Mail will tell those stories in coming weeks – Paramedic Jason Callanan; Detective Mark Amos; Magistrate Tim Walsh and mother Sally Millar.