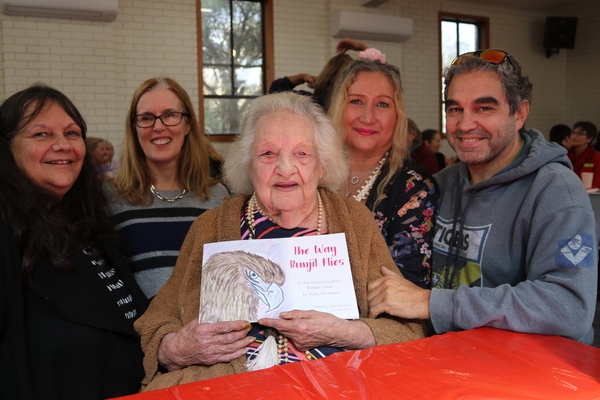 A new children's book will share and celebrate Aboriginal history, spirituality and culture.
Aboriginal reconciliation advocate and author Aunty Dot Peters launched a version of The Way Bunjil Flies for children aged five years and under on Wednesday 8 August.
It's a fictional children's book about her new Dreaming story.
"This book will play a role in building cultural pride within families and communities and will promote reading within the Aboriginal and broader community," Aunty Dot said.
Yarra Ranges Councillor Fiona McAllister said it was vital that the Yarra Ranges community continued to share Aboriginal stories.
"We need to continue to teach young children to understand and respect Aboriginal culture, to learn local stories, and for all children to embrace and be proud of Aboriginal history," she said.
Wurundjeri elder Aunty Kim Wandin said the illustrations allowed children to enter the world of Bunjil and to use their imagination.
"By sharing this story we are being taken on a cultural journey to preserve moral values," she said.
"It gives our kids and the wider community an appreciation of our cultural heritage.
"The book will shape the way we view Badger Creek."
The Eastern Community Legal Centre sponsored lunch at a launch for the book held at the Healesville Indigenous Community Services Association (HICSA), and the council supported the publication.
Call HICSA 5962 2940 or email admin@hicsa.org.au to buy the book.
Copies will be available for borrowing at Eastern Regional Libraries shortly.