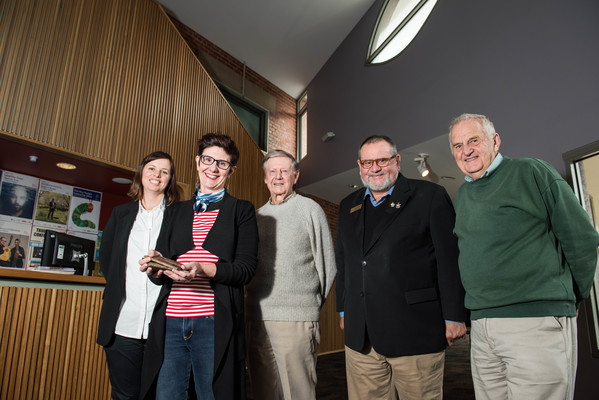 By Kath Gannaway
An artwork that re-uses pieces of the parquetry floor of The Memo in Healesville will pay homage to the hall's layered history as a Memorial Hall.
Healesville artist Ali Griffin has been commissioned by Yarra Ranges Council, Healesville and District Historical Society and Healesville RSL to create the artwork which will be permanently displayed at the hall.
The hall, which remains the focal point of Anzac Day commemorations was opened on 24 April, 1924, as the Soldiers' Memorial Hall, a memorial to WW1 soldiers.
Cr Fiona McAllister said the artwork would draw people's attention to the story of the building, while reflecting its current use as a creative hub and performance space.
"Ali's proposal was chosen by the panel for its strong sense of commemoration, its emotive reference to individual soldiers, and its modern take on WWI," Cr McAllister said.
"When installed, it is sure to engage all who walk through The Memo's doors."
Ms Griffin said her concept included an imaginative reuse of parquetry pieces that were recently replaced in the auditorium and were another reference to the heritage and story of the building.
"It's a fair honour and a big responsibility," she said.
"To do a piece like this in your own community, in your own town, is pretty special. I'm pretty emotional about it."
The Soldiers' Memorial Hall was built through funds raised by individual donations, a carnival and other community activities and was used as the meeting place of Healesville RSL until the mid-50s when the current RSL was built.
RSL Commemorations Officer, Bob Gannaway, said the project would recognise and commemorate the original purpose of the hall as a Soldiers' Memorial Hall.
"It remains a place of gathering, with the cenotaph and the original façade, and is an integral part of our Anzac Day services," he said.
The venue itself has long been an important community gathering place, as a cinema, for dances, school productions and a variety of live performances including, in 1928, a concert by Dame Nellie Melba.
The artwork is expected to be installed in early November in time for the Centenary of Armistice that ended WWI.