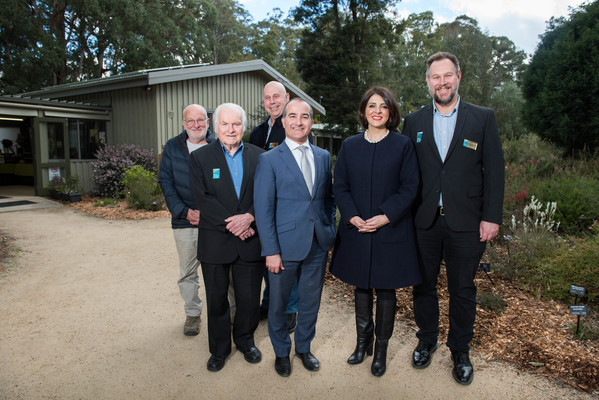 By Derek Schlennstedt
Major trail projects and a new soccer pitch in Yarra Ranges will become a reality following a significant cash boost from the State Government's Growing Suburbs Fund.
Monbulk MP James Merlino and Local Government Minister Marlene Kairouz announced $8.75 million for four Yarra Ranges projects at Karwarra Australian Plant Garden in Kalorama on Wednesday 12 September.
They said $2 million would go towards the 26 kilometre Ridgewalk – a cultural and heritage walking and cycling trail to connect towns through the hills.
The Yarra Valley Trail will receive $2.5 million to help Yarra Ranges Council deliver the project's 11.5km first stage.
The all-ages, accessible walking and cycling trail will link Lilydale to Yarra Glen.
The Yarra Valley Trail will then join the Warburton Rail Trail and intersect with several visitor destinations.
Another $3 million will help the council to deliver the Warburton Mountain Bike Destination.
"The Warburton Mountain Bike Destination will involve the creation of more than 150 kilometres of mountain biking trails connecting Mount Donna Buang to the Warburton township and the surrounding mountains," Mayor Len Cox said.
He said that those projects would generate 757,000 more visits each year, 535 new jobs and $80.8 million in spending.
"These projects are all-important, not just for our region as the number one tourist destination in Victoria, who will be able to explore and experience their own region in different ways and to access world-class destinations and opportunities for physical activity at their doorstep," Cr Cox said.
Finally, Esther Park in Mooroolbark will receive $1.25 million for a multi-pitch synthetic soccer facility with lighting, which will cater for junior and senior competition soccer.
Cr Cox said this was one of the largest funding boosts the shire had received through the Growing Suburbs Fund, and that the support would ensure the projects became reality.
Mr Merlino said he looked forward to seeing the projects move ahead.
"They go to the heart of building what families need in our community," he said.
Ms Kairouz spoke at the announcement about the importance of supporting the interface councils, which require the extra infrastructure to cater to growing communities in the region.
"The Growing Suburbs Fund is about building the infrastructure that our fastest growing communities need," she said.
"We know that Melbourne's outer suburbs are growing fast, that's why we're investing in local projects that local residents will benefit from for years to come."
The State Government's investment brings the total project cost to $112 million.
Since 2015-'16 the fund has supported 10 of Melbourne's growing suburbs including Cardinia, Casey, Hume, Melton, Mitchell, Mornington Peninsula, Nillumbik, Whittlesea, Wyndham, and Yarra Ranges.
Together, these council areas will accommodate 46 per cent of the state's population growth until 2031.