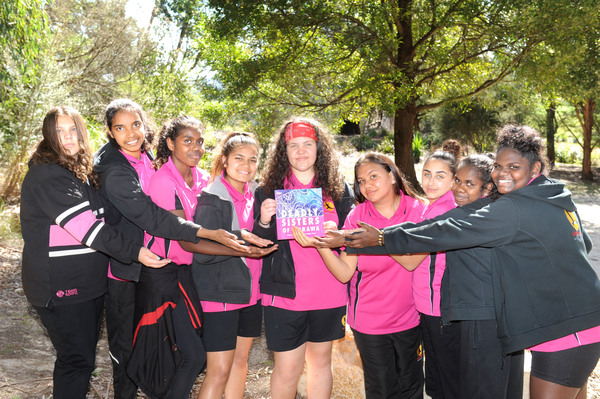 By Derek Schlennstedt
Thirteen young women from Worawa Aboriginal College in Healesville launched a self-written book in Federation Square.
The 5 September launch coincided with Indigenous Literacy Day, which celebrates Indigenous culture, stories, language and literacy.
The young women of Worawa wrote Deadly Sisters of Worawa with authors Dr Anita Heiss and Shelley Ware in just one week.
It showcases stories about themselves, their families and sacred places, and what makes them proud to be deadly Indigenous women.
Dr Heiss and Ms Ware joined the girls at the launch and introduced each one individually, praising the students and the special traits that helped to produce the remarkable book.
Cheyenne Hayes and Jessica Byford, two of the student authors, read from the newly-launched book.
Jessica told the audience to "speak up, you're not alone, we are all students calling Australia our home".
Cheyenne spoke passionately about her dream of finishing school at Worawa, having a career, and becoming a politician.
She spoke about her environmental concerns for the land and how she wanted to be a voice of change for Mother Nature.
The book features these topics as well as powerful and moving poetry, and artwork is presented alongside the stories.
It all combines to reveal how deadly these Worawa sisters are.
The authors spoke to the Mail about the book's title, and the significance of presenting it to a crowd of 300.
"We chose that title as it represents us all," they said.
"We wrote about our sacred place, and where we're from, and our family and what we're proud of.
"It was a good experience, working with awesome people and meeting awesome people.
"We had to sign the books and get photos…it was good…I actually felt like I was important and noticed for the first time in my life."