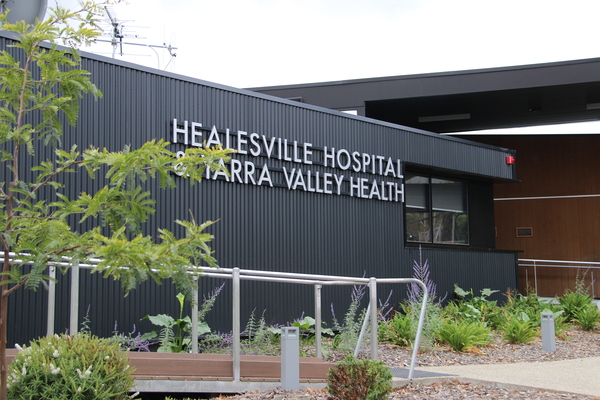 By Casey Neill
We were overwhelmed with the response to our 8 September article about the push for maternity services at Healesville Hospital.
So much so that we've decided to throw our support behind it.
That article covered the recommendations of the Victorian Government Perinatal Inquiry.
Over the coming weeks, in the lead-up to the 24 November State Election, we'll take a close look at just why the community is so vocal about returning maternity services to Healesville.
We'll start next week with a chat to Healesville-based Yarra Valley Midwives.
The private service started up in the town after maternity services left the hospital.
Midwife Robyn Partington said the area was home to "a birthing population" rather than an ageing one, and had to travel to Box Hill or The Angliss for public birthing services.
She'll speak about continuity of care, expanding admitting rights for private midwives to public hospitals and more.
We'll share more about how this situation came to be, speak to many other people with ties to the issue, and even invite some to share their thoughts and feelings first-hand.
We'll cover a public meeting that Save Healesville Hospital Action Group will be holding at The Memo from 7pm on Thursday 4 October.
SHHAG spokesperson Jane Judd said the event would celebrate the services the group had maintained and call on the State Government and Opposition to explain their position on what still needs to be delivered, like the option of local birthing.
"If you want local maternity options, this is your chance to be seen and heard before the State Government election in November," she said.
We also want to hear more from you: those of you who gave birth at Healesville, those of you who missed out on doing so and had to travel elsewhere.
So many readers shared their stories on our Facebook page.
Nikki Lee said both her children were born there, in 2001 and 2004.
"The town and surrounding areas have become so much more populated since then, so I imagine there would be definitely be a need for birthing services at Healesville Hospital," she wrote.
Naomi Taylor's children, aged 8 and 10 years, were also born there.
"It was a fantastic experience," she wrote.
"When you consider the lack of options for families in the Yarra Ranges something needs to be done.
"Women shouldn't be forced to travel for over an hour to get to a hospital."
Lisa Lawther wrote that she'd be curious to know how many women were choosing free birthing without help, home birthing with a midwife, or birthing somewhere on the highway on the way to the Angliss or Box Hill.
"I understand it may not be possible to cater for high-risk pregnancies and very sick babies, but there are so many uncomplicated pregnancies with women who are low risk, that could and should be support to birth locally," she said.
Samantha Smith had two of her three children at Healesville.
"I was shattered when I had to have my third at Box Hill," she wrote.
"The anxiety that it caused me knowing I had to travel an hour to hospital whilst in labour was so bad."
Email editor@mailnewsgroup.com.au if you have a story to share.