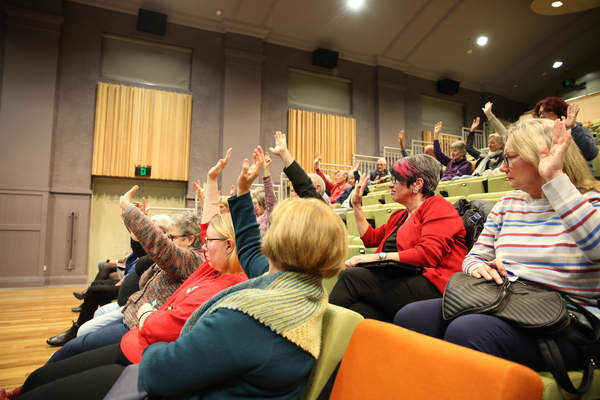 By Derek Schlennstedt
It was at a meeting in 2012 where 100 residents met at the Memo in Healesville and resoundingly swore to save Healesville Hospital from demise.
Six years later and on October 4 another resounding oath has been made by over 40 people who gathered to speak about the need for better services and facilities at Healesville Hospital.
The meeting at the Memo centred on maternity services and urgent care services.
Ryrie Ward Councillor, Fiona McAllister opened the night by reflecting on the communities success in achieving a great hospital, but said that it was clear there was still work to be done.
"It's been 6 six years since we packed this hall with great concern about the potential loss of our hospital," she said.
"I Want to spend some time talking about certainly what we've achieved – and a huge amount has been achieved by this community over the past six years – but also be looking at where next? where are we wanting to go in terms of the services that we don't yet have?"
"There is a lot to celebrate it's a great facility, but it is our view that there are still some things missing – things we've been pushing for that aren't there yet and we think there is still work to be done to bring those facilities to the community."
the meeting not only celebrated the services the group had maintained but called on the State Government and Opposition to explain their position on what still needs to be delivered, like the option of local birthing.
Residents spoke about their concerns, and although birthing was a major topic so too was urgent care and the requirement for local GP's to be able to refer locals to their own hospital.
"I'm on a waiting list for a hernia at Maroondah – how long will I wait?" said Brian Huntley.
"Not one of our doctors can admit us into our local hospital," he said.
"You can go see a doctor and they will send you to Maroondah."
Resident Kirah Barber told the audience about her struggle with chronic illness and how she had to regularly travel to Ringwood to get simple X-ray scans.
"I suffer from chronic illness so a lot of these urgent care facilities are something I would use."
"Having the opportunity to use things like x-rays, MRI scans and CAT scans would be beneficial to me."
Ms McAllister ended the meeting urging people to contact their local member and made a 'call to arms' to residents in the Yarra Valley who wanted to see better health services at their local hospital.
"Certainly the need or desire hasn't diminished in our community and I think the voice is still very strong."
"This push for urgent care, for maternity and birthing, for obstetrics and all the supporting services, and for access to specialists locally and what should be a simple thing for our local GP's to refer to the local hospital … it sounds to me like that is our ask."
"Its nonsense that the hospital is full of patients from other areas, but local residents can't be referred in directly by their GP's."
"My request of all of you is to go away and speak to ten twenty or fifty people and ask them to act and contact their local member and go public, through social media or through conversation and remind people there are still things we deserve and need locally."