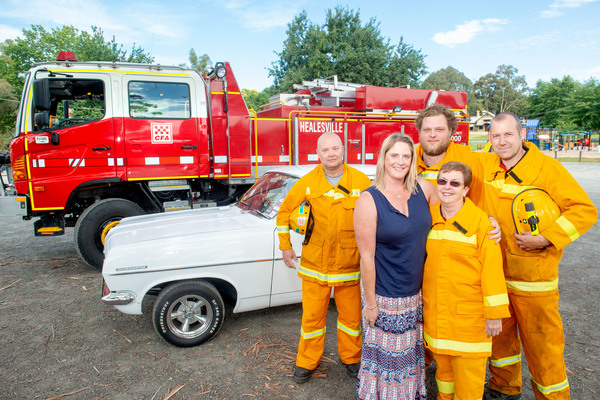 By Casey Neill
The fear in people's voices is what Stacey Bennett remembers most vividly about Black Saturday.
Ten years on, she'll be reflecting on how everyone came together after the catastrophic event.
Ms Bennett will remember the people who helped the suffering communities on the day and in the weeks and months after.
She's determined to show those affected that they haven't been forgotten, even a decade down the track.
She'll again host the Black Saturday Remembrance Cruise, this year on Saturday 9 February.
Cars will depart Yarra Glen Recreation Reserve on the Melba Highway at 1pm and arrive at the Healesville Railway Precinct on Healesville-Kinglake Road at 2pm.
There'll be a remembrance ceremony at 3pm. It's $10 per vehicle to participate, with all funds going to the CFA.
"We haven't forgotten the people up there that are still suffering," Ms Bennett said.
"We still remember and we still are there for each other.
"It's a way of the community gathering and reflecting.
"I think it's nice that people have their own reflection time in their cars as they travel.
"They can have their quiet time and their own space with their loved ones, and then we get to the end and we're all together."
The cruise started as a tribute to her friend Kate Ansett, who died in her Toolangi home on 7 February 2009.
"She had a love for old cars," Ms Bennett said.
"She was a very beautiful, very happy, very positive person."
The first cruise was eight years ago.
"We never expected it to be as big as what it was," she said.
"Everyone seemed to love it and want to be part of it.
"I know it means a lot to other people so that's why I continue to do it.
"I've had people come and tell me so many different stories about their personal tragedies from the fires.
"People tell you that this is the first time they might have taken the car they used to escape the fires.
"They only ever bring it out to this event and then it gets parked away again."
She said this year wouldn't be a lot different, despite the milestone it will mark.
"It's definitely more significant, and people are looking for remembrance ceremonies," Ms Bennett said.
"We've always wanted to keep it basic, keep it the same, but it definitely feels different.
"The 10th feels more important."
The cruise is open to all vehicles – even the family car – and people don't have to take part in the procession to come along to the ceremony.
"We've had people turn up in mini buses," she said.
"It could be 800 vehicles altogether. It's always a very hard thing to gauge.
"There'll be about 2000 people."
Ms Bennett lives in Bendigo now, but lived in Healesville on Black Saturday.
"We were inside and then I remember going outside and it was dark, hot, windy," she said.
"I remember turning the radio on and just hearing people crying and yelling for help.
"We knew it was bad then."