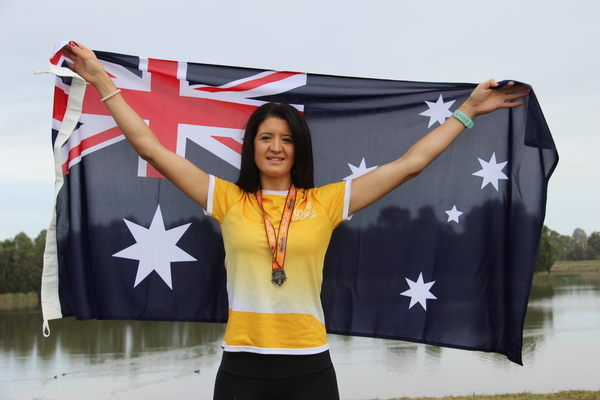 By Jed Lanyon
Beck Mitchell is preparing to compete in seven marathons on all seven continents in seven consecutive days in the World Marathon Challenge in February 2020.
Ms Mitchell, who grew up in Mount Evelyn, plans to be just the fifth Australian female to accomplish this extraordinary feat as the tour will take her to the cold and desolate Antarctica to the dry deserts of Dubai within a single week.
"My whole life feels like it's sort of come to this moment where I get to represent the country and do something really incredible to show other people that the impossible is actually possible," Ms Mitchell said.
"Being a youth worker and working with people in general, I see lots of people that give up on their dreams or let the challenges of life get in their way of them achieving their goals.
"I am a really big believer in going out and role modelling how to change that," Ms Mitchell said.
"If I can go out and achieve this silly, ridiculous challenge, then hopefully that will inspire other people to overcome whatever they are facing in their life to achieve their goals and dreams as well."
There are 168 hours in a week and the World Marathon Challenge website estimates that participants will spend an estimated 68 hours of the week on an aeroplane to and from each location.
A marathon is 42 kilometres and over the seven days Ms Mitchell will run 294 kilometres, she said that there could be a differentiation of 60 degrees Celsius from one location to the next.
"If you imagine you're running in Antarctica, it's actually quite dry. So you're going from this dry, cold and freezing place to Cape Town where the air is quite humid because it's closer to the equator," Ms Mitchell said.
"Letting your body try and get use to running in that in a very short space of time is a challenge… Not only are you trying to acclimatise but then you are trying to perform as well.
"The two biggest challenges you face are the air temperature and consistency of the air and being deprived of sleep while travelling in different time zones," Ms Mitchell said.
Ms Mitchell said that the turnaround in between some of the marathons is as short as 14 hours due to the logistical difficulties of travelling.
"When you start the challenge, for that whole seven days you don't really run on any clock… When you land, it could be the middle of the day or the middle of the night and you're just running.
"In talking with one of the participants from this year, they reckon they had about 20 hours of total sleep over the whole seven days… It's quite frightening actually," she said.
Bridge Builders Youth Organisation is a not for profit youth charity that works with people aged 12-25.
Ms Mitchell is the executive officer and board member and welcomes businesses to sponsor her along her journey as she attempts to raise $250,000 for the small organisation.
"I started here when I was 17 and I was a participant in the program… It really gave me a lot of confidence and helped me as a young person to redirect my life and how I was feeling about the world," she said.
"I wouldn't be where I am if it wasn't for my support team. I'm so thankful that I have people cheering me on and that I can give to such a worthy cause.
"I'm thankful to have a coach who believes I can do this," Ms Mitchell said.
The World Marathon Challenge locations include: Novo in Antarctica, Cape Town in South Africa, Perth in Australia, Dubai in the United Arab Emirates, Madrid in Spain, Santiago in Chile and Miami in the United States.
The event is scheduled to take place on 6 February to 12 February 2020.
For more information and to donate to Ms Mitchell's cause, visit: beckmitchell.com