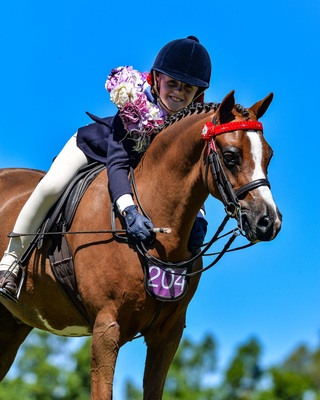 By Jed Lanyon
Jess Sharp, 11, took first place in her age group at the 2019 Hufglocken Grand National, Saddle Horse and Rider Championships at the Sydney International Equestrian Centre in March.
Jess, who lives in Yarra Junction, competed in the Grand National Rider 9-under 12, hosted by the Show Horse Council of Australasia.
Jess' mother Mandy Burge was very proud of her daughter for taking out the main prize.
"She was chosen as the champion rider in her age group," she said.
"It was quite a decent size class… There were 37 riders in the class and each of those riders had to qualify to go. So they were from all over Australia and New Zealand.
"Jess won some rider classes throughout the year to go on to compete at this competition," she said.
Ms Burge said that only two riders from those competitions were invited to compete at the Grand Nationals.
"It's the crème de la crème in the show horse scene… It's one of the biggest events in Australia."
Jess travels frequently to compete, having travelled to Adelaide three times this year and she will soon make her second journey to Sydney to compete at the Sydney Royal Easter Show.
Jess' pony is named Imperial Vagabond.
"We've only had him for 18 months… He's only five so he's very young and doing quite well," Ms Burge said.
He's just quite willing to want to perform; he's a natural little performer… Jess and him seem to have a nice combination happening, Ms Burge said.
"He is a liver chestnut. He is the most willing-est pony and he's so good," Jess said.
Jess won $300 in prize money at the Grand Nationals and said she plans to put that amount towards saving to buy a Shetland pony.
Jess started riding when she was five and now takes weekly lessons in between travelling and competing.
Ms Burge said that the sport is definitely a large part of Jess' life.
"She wants to be home schooled, so she can ride more," she joked.
.