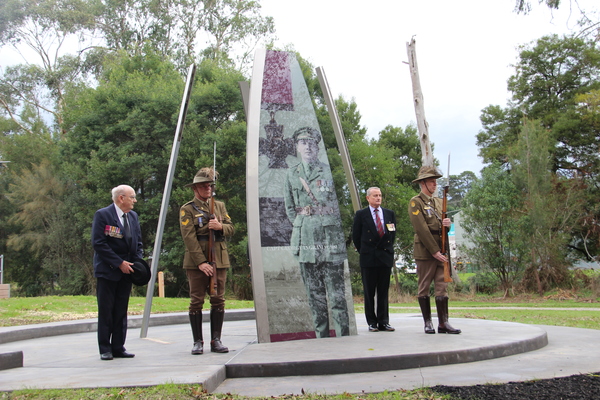 By Jed Lanyon
The first panel of the Seville War Memorial dedicated to Victoria Cross recipient George Ingram was unveiled on Sunday 12 May.
George's son Alex Ingram and retired Major-General Michael O'Brien CSC unveiled the glass panel that stands over three metres tall.
Many Seville residents gathered to witness the culmination of over six years of work by the Seville War Memorial Committee to turn the vision of a memorial in Seville into a reality.
Guest speakers on the day included Chair of the Seville War Memorial Committee Anthony McAleer OAM, Mayor of Yarra Ranges Council Tony Stevenson and Casey MP Tony Smith.
Mr O'Brien detailed how George Ingram won the Victoria Cross and Victoria Police Protective Services Unit Inspector Michael Glinksi explained what life after the war was like for George.
Several wreaths were laid in front of the glass panel memorial, which has been set to face towards Ingram's former home and in the direction of Seville Primary School, where he was a former pupil.
When completed, the memorial is designed to carry four panels. The committee raised $110,000 to construct the foundation and framework of the memorial and to put in place the first glass panel.
Mr McAleer said that when planning for the memorial, they wanted to emphasise detail rather than simply list names like many other memorials created long ago in a time where people in smaller communities knew the individuals.
The remaining panels will tell the stories of Private Hubert Read, Trooper George Cassidy and Private Bruce Bethune as well as list the remaining 18 residents of Seville who died while on active service in World War I and World War II.
"George Ingram's military experience was varied leading up to the First World War but was typical of many people in Victoria at the time," said Mr O'Brien.
"He saw many of his friends sacrificed in that battalion and of course he knew very well that he had lost both of his brothers in that war."