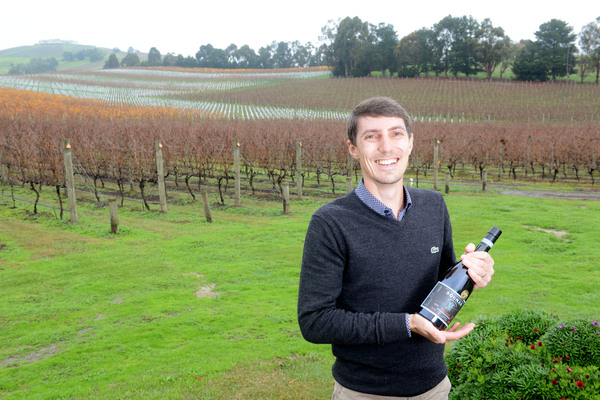 By Jed Lanyon
Gruyere's Soumah of Yarra Valley winery recently hosted a team of Japanese wine distributors on an annual visit for a pruning lesson and tour of the vineyard.
Osaka based wine distributor Mottox currently distributes several Soumah wines and sent a team of six salespeople out to the Yarra Valley to learn more about the vineyard.
Director of Global Sales and Logistics Dmitri Lazariuc said, "We export to a number of different countries around the world and Japan is one of them.
"It's a great opportunity for a winery to update our distributor on what's been happening.
"During the communication throughout the year, some things might not sink in as well as they do on a personal visit."
Mr Lazariuc said that Mottox and other distributors reward some of their highest performing salespeople with these kinds of trips and described the visit as a relationship exercise.
"This time of the year we normally prune, so we explained to them how it's done and perhaps they can pass that information to their customers when they sell the wine."
Mr Lazariuc said that Asia is a fast evolving market in the wine industry in comparison to those which are well established, like Europe or the United States.
"Your distribution overseas has an effect on tourism within your immediate market, which for us is the Yarra Valley.
"When you're buying wine in your local store, you're sort of thinking to yourself while you're enjoying the wine that it'd be great to be in the area where it comes from. So then maybe you start to plan a holiday.
"For some it's easier than others, but the mind wanders and perhaps an opportunity comes up for that person to go to that area where they have tried the wine.
"It's a tight community as a local wine industry so it helps everyone, because that person in Japan or China, who has seen the wine on the shelf, tries it and says 'wow, I want to know more about the area', so for their next Australian holiday they will be thinking about coming down here," Mr Lazariuc said.
Soumah of Yarra Valley's 2017 Equilibrio Pinot Noir received one of 16 platinum medals, and a gold medal to their 2017 Hexham Vineyard Pinot Noir at the Decanter World Wine Awards.
Soumah's wines were recently made available to purchase on Qantas flights.
The vineyard and winery are located at 18 Hexham Road, Gruyere.