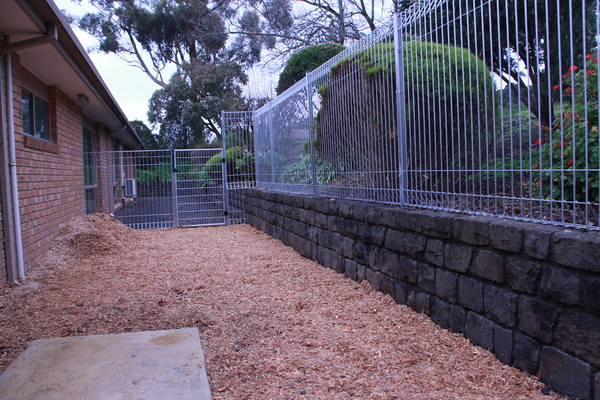 By Jed Lanyon
The Woori Yallock community is celebrating the construction of a new fence to surround the Presbyterian Church property on Tuesday 13 August, which will allow the church to take on an after-school program for children with additional needs.
The program is coordinated by Interchange Outer East, a not-for-profit disability support organisation that has previously hosted the program for children diagnosed with Autism Spectrum Disorder (ASD) at Woori Yallock Primary School across from the church.
But five years on, the program can be moved to a more suitable location in the church.
Interchange Outer East coordinator Heather Sayer shared how something as simple as a fence around the church can help the program.
"It sounds contradictory but it can give more freedom to the children that are attending.
"Particularly when you're on a main road and you have a child who may not be aware of the safety risks.
"It means that they can have a bit more freedom to move around without staff having to keep on top of them."
Ms Sayer said that Interchange's work is focused on supporting the whole family, rather than just the individual.
"The school has been fabulous, but being a school, sometimes they run their own after school activities and the children would have to move to a different room.
"And children with autism struggle with change, so having a space that they can identify as their own at the church and is made to suit them is a huge advantage."
School chaplain Veronica Tirchett said the relocation will provide a safer and quieter environment for children with additional needs.
Ms Sayer said the fence provides a safe outdoor area that is not accessible to a main road and the relocation to the church will allow extended hours for the program as school staff members were required to remain at the school to ensure all buildings were locked.
"This is quite a unique partnership with Woori Yallock Primary School because they're so good at advocating for their families and their needs outside of school."
The program has welcomed 6-12 families at a time and primary wellbeing officer for Woori Yallock Primary School Andre Campbell said, "The parents love it because they're meeting other parents and they can share their experiences and learn from each other."
An afternoon tea was held at the church on 13 August to celebrate the occasion between the different organisations and groups within the community.
The fencing was aided in funding by a $500 grant from Bendigo Community Bank in Woori Yallock.