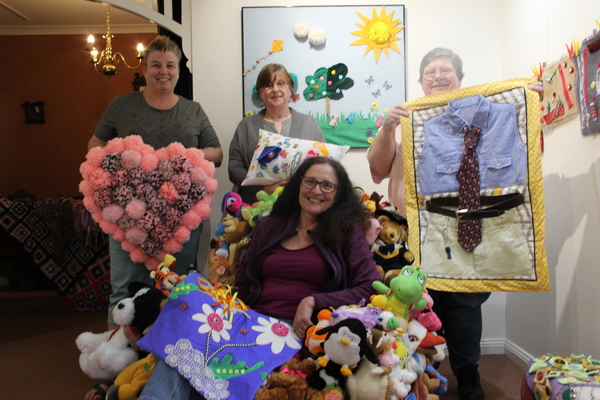 By Jed Lanyon
Seville Community House is currently hosting their 5th annual Fiddle Rug Exhibition at Mont De Lancey.
From 5 October to 20 October, locals are welcome to come along and take home one of the 500 handcrafted sensory objects that aims to help calm a child with Autism Spectrum Disorder.
The items also serve to aid the fine-motor skills of seniors, who may be suffering from Dementia or Alzheimer's disease as many of them feature zippers, buttons, belts and hooks.
Ms Snowdon said that she hopes to see the project pass the milestone of giving away over 2000 gifts over the years.
"When people come through here and they take a fancy to something, they can take it with them. There is no cost."
The 500 sensory items were crafted throughout the year by Seville Community House members.
"We love it. For us it's about creating something that is going to bring joy and that may help with anxiety," Ms Snowdon said.
MP Bridget Vallence, who is a patron for the Fiddle Rug Project, opened the exhibition on Saturday 5 October.
"Having supported Seville Community House and the Fiddle Rug Project for about three years, I was delighted when Fran and Glenice invited me to be their patron," Ms Vallence said.
"Walking in to the exhibition at Mont De Lancey on Saturday gave me the tingles. It was wonderful to open this important community exhibition, with its huge array of gorgeous sensory pieces that will benefit people with Dementia, Alzheimer's disease and Autism, lovingly crafted by the talented volunteers of Seville Community House."
Another feature of the exhibition is a lounge chair that has been covered in children's toys.
"There are 11 panels on this chair and all of the toys have been stitched on… The whole thing is covered," Ms Snowdon said.
"There are so many bits and pieces here that someone will find special and can cuddle up to it.
"If there's a time when a young child needs a bit of time-out or if they're hyped up and need to relax, they can come here and curl up and find a special toy."
The chair will be donated to charity, but visitors are welcome to have a sit and relax.
Fran Snowdon and Glenice Hopes created the exhibition in 2015.
The idea came about through Ms Hopes Hopes time working with young people with intellectual disabilities and then aged care.
For Ms Snowdon, her granddaughter was born with a rare double chromosome.
"We both had a very raw connection… And all of the ladies, there's about 20 of us, all have a connection.
Another community house member, Carol Clark, cared for her late husband who suffered from Alzheimer's disease.
"It's good for me to be able to do something positive," Ms Clark said.
Visitors to the exhibition can take part in a raffle, where for $2 they can enter to win a handcrafted king sized quilt, with the money raised going back in to the community house's projects.
Seville Community House also accepts crafting donations that will help shape next year's Fiddle Rug Project. To donate, contact 5964 3987 or info@sevillecommunityhouse.org.au.