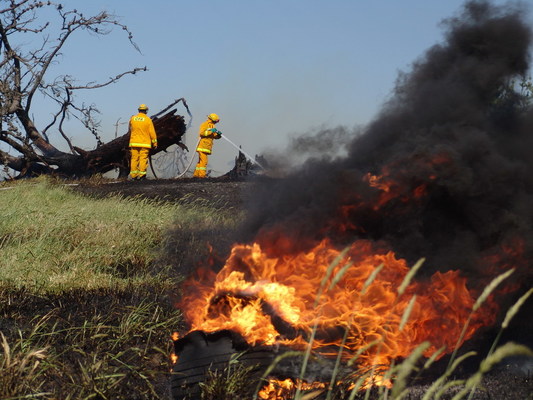 By Jed Lanyon
Residents from Powelltown, Gilderoy and Three Bridges townships will be taking part in a bushfire evacuation exercise with emergency services that will help prepare for how they will respond in times of an emergency.
The simulated emergency event will provide an opportunity for residents and emergency management agencies to test their plans and procedures ahead of the upcoming bushfire season.
The exercise will take place on Saturday 26 October between 2pm-6pm in coordination with Victoria Police, Emergency Management Victoria, Yarra Ranges Council and the CFA.
Victoria Police Assistant Commissioner Michael Grainger said, "We've chosen that part of the world because it's an area that has experienced significant fires in the past.
"We have a community that is very willing to engage in the process and they're a resilient community that is quite isolated with one road in and one road out.
"What we're keen to do is test our processes and our engagement with other agencies and with the communities as we head in to what we expect will be a really hot, dry, summer period.
"We would like people to start thinking of what they would do in really dire circumstances."
Mr Grainger said that it's important for the community to make plans to get out rather than stay and that emergency services may not always be available to help.
Emergency Management Commissioner Andrew Crisp compared any potential fire in the region to the recent bushfires in Paradise, California.
"Paradise is situated similar to Powelltown, it's on a plateau and there are very few ways in and out of the town," he said.
"They actually tested their traffic management plan only months before that particular fire.
"Tragically, they lost more than 80 lives in that fire. But they're saying that because they had tested that plan, they saved many more lives.
"It's so important that we test those plans. There are things we can control and then things we can't control… We live and work with fire in Victoria, it's a part of our history and it will be a part of our future."
Mr Crisp urged residents to consider their evacuation plans if they have to consider taking pets or livestock with them.
"It's important to be cleaning up around your property… Now is the time to be doing it."
Mr Crisp, like Mr Grainger, urged residents not to rely on waiting for police to come knocking at the door to advise an emergency evacuation.
"More than 80 personnel will be involved in this particular exercise… When there are very few ways in and out, there is likely to be traffic congestion."
Mr Crisp said that the evacuation will be filmed with the message applied to other communities.
Victoria Police have said that Powelltown will not be closed as part of the evacuation exercise.
The evacuation exercise will be followed by a community meeting at the Powelltown Football Ground to discuss the learnings from the day.
For more information and to register, visit https://bit.ly/2MhuuwW.