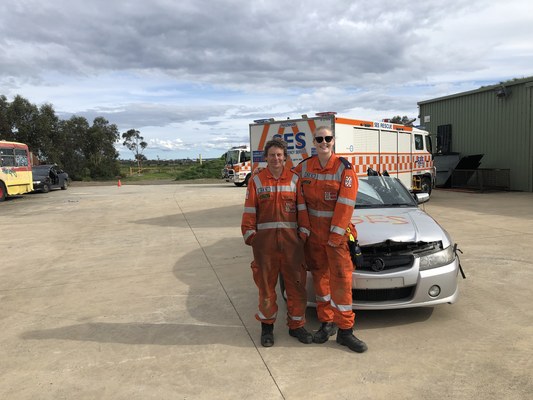 By Sarah Booth
The Healesville SES unit has expanded their capability, with two members receiving their road crash rescue accreditation last month.
Over several days, Healesville's Lucy Aston and Dave Singleton attended a training course in Bangholme.
They learnt to operate rescue tools and free people trapped in vehicles, before undergoing an assessment at the end.
"We practiced it over and over again," Ms Aston said.
"It was physically tough…but we all worked together as a team to achieve an excellent outcome."
For Ms Aston, the course was a reminder of the variety of experiences offered by the SES.
"People think we just cut up trees, but we do tons of exciting stuff."
The type of incidents SES members respond to includes floods, storms, landslides, earthquakes and road accidents.
She also lists the variety of leadership and training opportunities available for volunteers.
Members can receive accreditation in a wide range of skills ranging from incident management and alpine search and rescue, to four-wheel driving and working at heights.
Ms Aston joined the organisation two years ago, thinking it would be a chance to give back to the community and meet make new friends.
But it wasn't what she expected.
"I didn't think it would be this fun…it's exciting, it's inclusive, it's challenging".
"The teamwork aspect of it is really good – the jobs that we go to can be really challenging – no job can ever be done by yourself," she said.
When asked who can join the SES, Ms Aston, who is responsible for local recruitment, had a simple answer.
"Anyone."
"We don't care what you do," she said, adding that there are non-operational, administrative roles for people who do not want to turn out.
People often worry about their availability, but Ms Aston said that it doesn't matter.
"If you're only available for one hour in the day, and we get a job in that hour, you're an extra pair of hands we otherwise wouldn't have had," she said.
If you are interested in joining the SES, you can sign up at ses.vic.gov.au/volunteer or message the SES Healesville Unit on Facebook. Alternatively, head to 18 Argoon Road, Healesville on Mondays at 7:30pm to meet the unit in person.