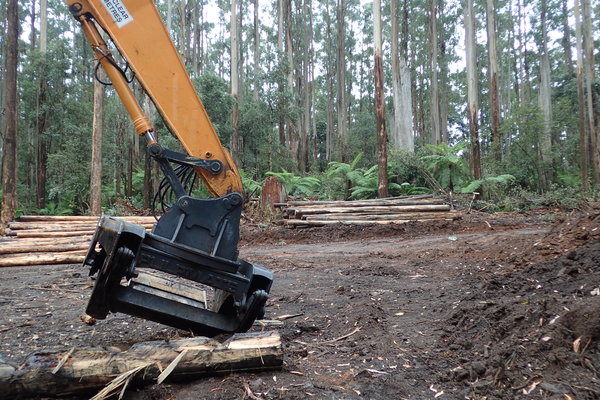 By Jed Lanyon
The Victorian government has released a plan to end native timber logging by 2030 in a move that will significantly alter the state's timber industry.
The Victorian government announced a 30 year plan for the sector that will see $120 million used in financial assistance businesses and workers in the industry.
A statement released by Premier Daniel Andrews stated that VicForests will extend existing timber supply agreements until 2024, stepping down by 2030, while logging of remaining old growth forests will cease immediately, protecting around 90,000 hectares of forest.
"With a 30 year plan for transition, we're providing much-needed certainty for workers and their families," Mr Andrews said.
The Victorian government states that their plan will assist regional businesses as they prepare for this transition, including Australian Paper, which it states will operate until at least 2050 by transitioning to a full-plantation based supply.
The state government had long been pressed by environmentalists to halt logging operations in the Victorian central highlands, an area home to the greater glider and the critically endangered leadbeater's possum.
Victorian Association of Forest Industries (VAFI) CEO Tim Johnston said, "It's clear the government has bowed to pressure from vocal environmental groups and turned its back on listening to those within the industry and those impacted by the flow-on of this devastating decision.
"Victoria has a long and proud native timber history and it is integral to many rural and regional communities that depend on it."
The Victorian government states that the decision will reduce the amount of carbon in the atmosphere by 1.71 million tonnes of carbon-dioxide-equivalent each year for 25 years – the equivalent of taking 730,000 cars off the road annually.
Minister for Environment Lily D'Ambrosio said, "This is the largest environmental protection plan in our state's history.
"We're taking this step to protect our precious natural gifts for generations to come, while striking the right balance between the environment and jobs.
"By ending the destruction of our old growth forests immediately, we're protecting the habitat of our greater gliders, leadbeater's possum and many other threatened species."
Eildon MP Cindy McLeish told the Mail she was extremely disappointed in the decision, which she said will sell out many small country communities and local jobs.
"Our local mills essentially provide timber to all parts of the state including the local area. They employ locals – many of whom live close by. The future for these workers is very unclear."
Ms McLeish held concerns about how the industry would operate by solely sourcing plantation timber.
"We need to get the facts on the table about the move to plantations. Whilst plantation timber is fine, hardwood plantations can take up to 40 years to establish.
"At the moment there is not enough plantation timber to support the industry to 2030."
Earlier this year, the state government announced a new $110 million plantation program across Gippsland, including hundreds of hectares of crown land in the Latrobe Valley.
The state government said that 250,000 blue gum seedlings were planted over the winter period, which is able to produce timber products throughout a 12-20 year period, according to VicForests.