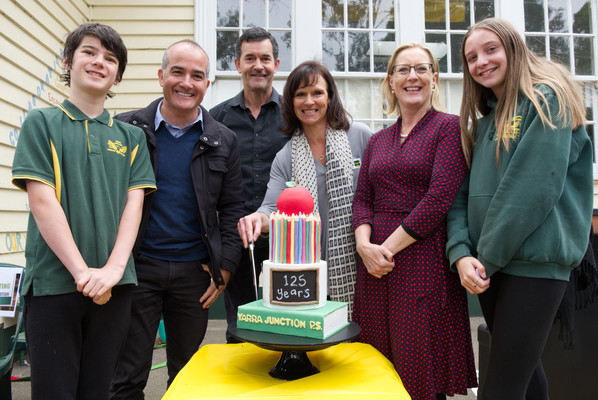 By Jed Lanyon
Yarra Junction Primary School celebrated its 125th anniversary with a 'step back in time' school fair on Sunday 1 December.
Principal Lisa Rankin said visitors enjoyed student stalls representing various historical eras.
"We've got a 70's flower stall, a butter making stall, a lemonade making stall and an old fashioned lolly shop stall," she said.
"The idea was to have a meeting place for people to come and gather."
"It's pretty exciting… It's an opportunity to celebrate all of our wonderful achievements that have happened over that time."
The school's belltower was installed as part of its centenary celebrations and now to mark the 125th anniversary, they have partnered with Ben's Shed to build a white picket fence for their oval.
In 1989, each student had the opportunity to purchase a brick featuring their name which was put towards the belltower's construction.
Now each fence picket will feature the initials of every student currently attending the school.
Ms Rankin said she was proud with the school's connection to the Yarra Junction community as Ben's Shed had recently collaborated with students to create a memorial for the sixteen Yarra Junction soldiers who were killed in service during the world wars.
The event was also an opportunity to acknowledge the career and upcoming retirement of teacher Shane Crowley, who has taught at Yarra Junction for 40 years.
And while the school celebrated history, staff and students were keen to look to the future as Minister for Education James Merlino officially opened a new $2 million learning facility.
The building includes a new fit out of reception, administration and staff facilities, a refurbished music block and landscaped grounds.
"Yarra Junction Primary School has been teaching local students for 125 years – I'm proud to be opening new facilities that will ensure this great school continues to go from strength to strength," Mr Merlino said.
"This terrific new building uses a modern floor plan to open possibilities for learning and teaching, while the sensitive design helps it sit well in its rural surroundings."
Ms Rankin, who has been at the school for over 16 years, said the school had come a long way recently after the construction removed two double portables to create more play space for students.
"We've extended the buildings and now we have eleven grades along one hallway. When I first came here each portable area was separated," she said.
"Now we're all under one roof, which has really altered the culture of the school. It's very collaborative and collective."