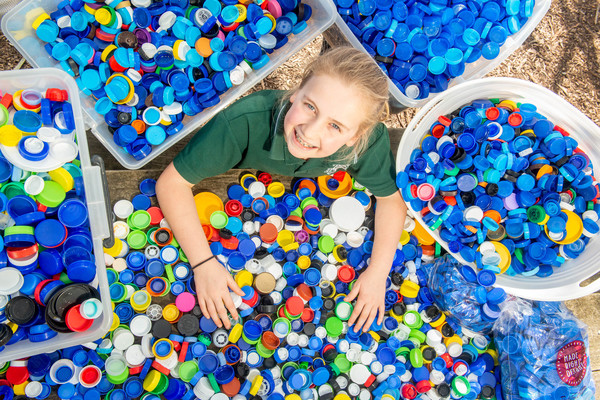 By Jed Lanyon
This year there were several stories highlighting young people doing great things in their communities. Here at the Mail, we thought we would take the opportunity to celebrate some of the Yarra Valley's youngest and brightest, who are making a difference.
Olivia Hyndman, Grade 5 – Woori Yallock Primary School
Woori Yallock Primary School student Olivia Hyndman inspired her classmates, teachers and the Woori Yallock community to collect their used bottle tops and lids for a special project to help children with disabilities.
Envision Hands is a not-for-profit community initiative that uses 3D printing to turn plastic waste, bound for landfill, into mechanical prosthetic hands for children in need around the world.
The bottle caps are shredded and made into a filament and then fed into a 3D printer to create a colourful superhero inspired prosthetic hand.
In just over two months, Olivia spurred Woori Yallock Primary School and the wider community to collect over 16,000 bottle caps to put towards the Envision Hands project.
Mercy Hutchinson, Grade 3 – Wandin North Primary School
A Wandin North Primary School student's charity fundraiser will help restore the vision of 20 people with preventable blindness.
Grade 3 student Mercy Hutchinson pitched a plan to her principal to sell Orbeez and rice stress balls to her classmates, where she managed to raise $513 for the Fred Hollows Foundation.
Orbeez are tiny, absorbent beads that grow into squishy, slimy bouncy balls when soaked in water. Mercy had the idea to fill the Orbeez into balloons which could then be squeezed to relieve stress.
Mercy's original aim was to raise $200. After smashing that goal, she told the Mail, "It feels really great that I raised this much money and that I'm going to be able to help people."
"We were learning about disabilities at the time and it just gave me the idea to make money for blind people. My mum's grandma, she went blind. So that kind of gave me the idea as well," Mercy said.
Tilly Shore, Grade 6 – Seville Primary School
Seville Primary School students were asked to write a persuasive letter of action as a class project and as a result, one student made a change in safety to her community.
School Captain Tilly Shore penned a letter to Yarra Ranges Mayor Tony Stevenson regarding road safety issues near her house.
Thanks to Tilly's letter, the sharp corner of Seymour Street and Howard Street now features roadside reflective posts, a sign advising drivers of the speed limit and road lines painted to ensure drivers stay on the left-hand side while making their turn.
"I chose the end of our road because we go past it every day and we've had some close calls with crashes, so I thought if I talked with the council we could change it up a bit," Tilly said.
Tilly has lived on the road for over 10 years and was able to recall from her own experience to explain some of the dangers of turning at the 'blind spot'.
"You can't see around the corner past the trees and everything. Nobody slows down or is considerate about what could happen," she said.
Tilly said it felt nice to have her voice heard.
"I felt really good, It was really good that I was able to make a change because not many people my age might be able to do that. It was such an amazing feeling."