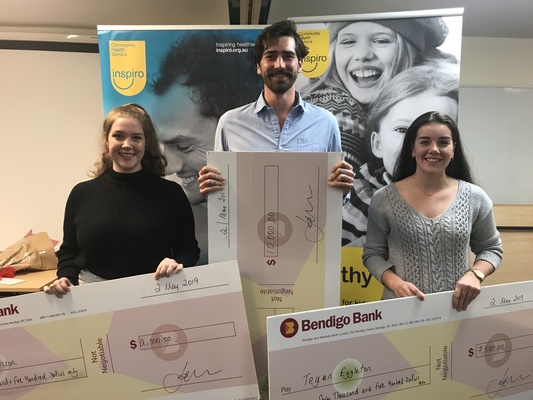 Aspiring health practitioners from the Yarra Ranges are having their dreams backed locally, with community health service Inspiro offering scholarships for the fifteenth year.
Inspiro has a total of $17,500 in Tertiary Health Scholarships and two Encouragement Awards of $2,500 each to present to residents of the Yarra Ranges Council who are currently undertaking or enrolled to commence tertiary studies in an accredited health science course at an Australian university or through the Vocational Education and Training (VET) program.
CEO of Inspiro, Sue Sestan said she hopes that Inspiro's support will provide health students from the Yarra Ranges with opportunities they might not otherwise have had.
"Our scholarship winners will have demonstrated academic achievement, a passion to succeed in their chosen careers and a strong commitment to help improve the health and wellbeing of our local community. Over the 15 years the scholarships have run, we've seen past recipients really make a difference. It's exciting that Inspiro can be a part of their journey", said Sue.
The 2019 award recipient, Liam O'Brien thanked the team at Inspiro for their generosity.
"Thanks to the generosity of the team at Inspiro I have been fortunate enough to be able to focus on furthering my clinical skills and dedicating myself to my studies more fully than I would have been able to without the assistance of the scholarship," Liam said.
Applications for Inspiro's Health Scholarship are now open and close on Monday March 16, 2020 at 4pm.
Details and application forms can be found on Inspiro's website at: https://www.inspiro.org.au/get-involved/tertiary-scholarships