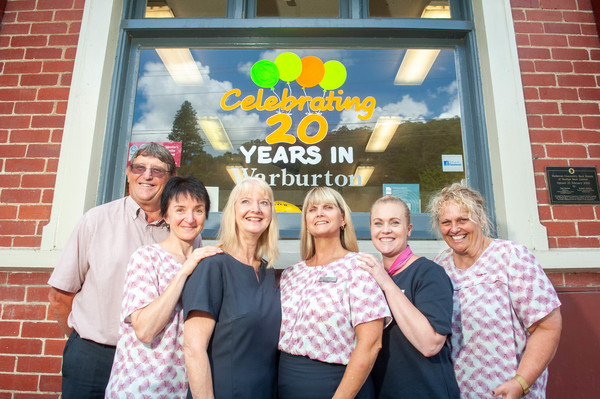 By Jed Lanyon
It's a birthday bash at Bendigo Community Bank as staff celebrate the 20th anniversary of the Warburton branch and the 12th anniversary of the Yarra Junction branch this month.
Both branches are also celebrating seeing more than $4 million of sponsorships handed out through community grants.
Warburton branch chair Rodney McKail told the Mail, "When we sit down to do our three rounds of community investments each year, there's just an excitement in reading what's happening in the community.
"It's not just about the money that we've given in sponsorships, it's about the economic, environmental and social impact. I think it's important to understand that broader benefit that the whole valley is getting out of some of these sponsorships.
"The other thing is that we want to recognise all of the people that came before us, who had the vision in the first place. It's easy to sit here 20 years on when there has been a lot of hard work, so we'll be celebrating with them."
Mr Mckail said some of the more memorable sponsorships, which includes helping save the Warburton retirement village and funding the mini hydro power plant in Ythan Creek. He also touched on the future for banking in the area.
"There are a lot of challenges in banking … There is no doubt banking will look very different in four years time to what it does today. There's still a job for a bank, but we don't get as many people through the door so we have to rethink how we deliver our business."
One staff member has been there for every step in Bendigo Bank's journey as Ros Caneva celebrates her 20th year of employment with the branch.
"Ros is Warburton," Mr McKail said.
"I know how much she's loved in the community, everywhere I go you only hear positives about her … She probably doesn't understand just how important she is to what we have achieved. She's a great advocate for the whole model of the company."
Ms Caneva describes herself as a Warburton person and said she takes pride in reaching the milestone. She has been working on and off at the same location since 1989 when the building was a state bank.
"I love working here at this branch, I wouldn't want to go anywhere else," she said.
Fellow staff member Wendy Roy said, "Ros just about knows everybody who comes through that door. She's a delight to work with."
Warburton and Yarra Junction Community Bank branches are hosting birthday celebrations with a free sausage sizzle and giveaways on Friday 28 February from 12.30pm. A cake cutting will take place at the Warburton branch at 3.30pm and then at 4pm at the Yarra Junction branch.