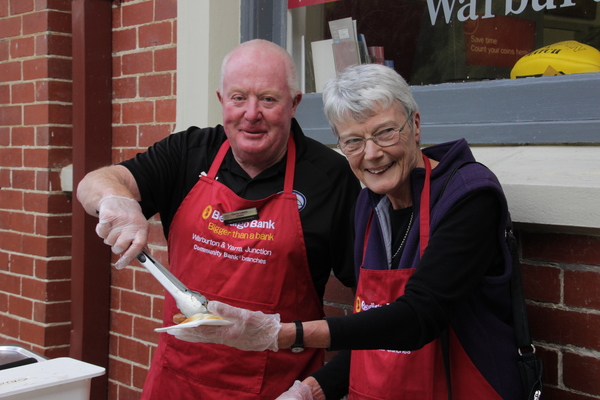 By Jed Lanyon
It was a big day for birthdays on Friday 28 February as Bendigo Community Bank celebrated the 20th anniversary of the Warburton branch and the 12th anniversary of the Yarra Junction branch.
Both branches celebrated in the streets with a free sausage sizzle and giveaways for Yarra Valley residents.
Both branches have helped contribute over $4 million in sponsorships handed out through community grants.
"It's been a long and fantastic day. Both Yarra junction and Warby have done the barbecues and it's just been magnificent and the community spirit has been great," Warburton branch chair Rod McKail said.
"We couldn't be happier. This part of the day was about our shareholders and our customers."
Mr McKail believes that around 400 sausages were distributed throughout the day between the two branches.
He thanked Warburton Primary School students who came down to sing happy birthday and enjoy some cake with staff.
"It's good to see how much we're appreciated."
Long-time branch staff member Ros Caneva had the honours of cutting the birthday cake, having worked at Bendigo Bank throughout its entire 20 year existence in the town.
One Warburton resident, Gina Baines, said she was there for the bank's opening 20 years ago.
"It was really exciting, we had been without a bank for so long," she said.
Ms Baines pledged her savings in a long term deposit at the time of the opening, helping the bank in its formation.
Ms Baines said that she created an artwork from the opening, which has been on display in the bank ever since.