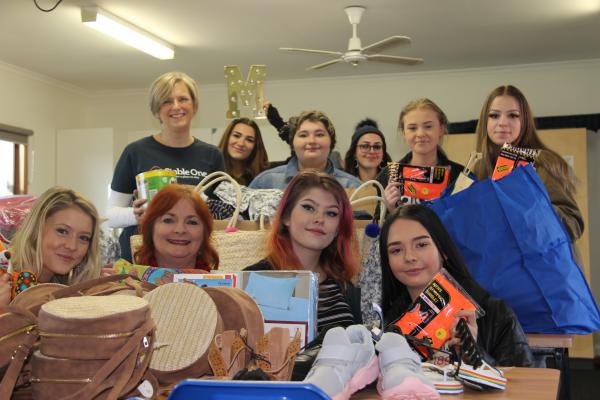 By Jed Lanyon
A group of students from Cire Community School's beauty class have been busy collecting donations and funds for those in need in the Yarra Valley community.
Prior to the Covid-19 pandemic, the group of young women had been learning how to perform manicures, while then visiting aged care facilities to volunteer those services to elderly residents.
"We take those manicures into areas that will help people's self esteem… The girls chat away to them, they paint and file their nails and will give them hand massages," said Megan Small, lead teacher at Cire Community School.
But as they could no longer visit the residents who are in the highest risk category for the coronavirus, the beauty class has turned their attention to helping the homeless through community organisation Stable One.
The students set up an online fundraiser while collecting an enormous amount of items for donation including handbags, shoes, backpacks, new clothing and more.
"The program here at Cire is an amazing program for people who haven't thrived in mainstream schools," Ms Small said.
"We can individualise their learning and understand the way they learn … We understand where the kids are coming from and try to steer them in the right direction and they respond beautifully.
"I have gorgeous outgoing women here that are ready to make a difference."
One student, Karina, wrote a letter which found its way in the hands of Cire's CEO and then to Big W, who were able to help out in donating new clothes to the cause.
"It feels good to know that we are all helping, especially for those in need in the Yarra Valley," Karina said.
Hayley and Kailea set up a GoFundMe page, which helped raise $204 in just a few weeks.
"It's exciting, you check it and see the money has gone up and it's nice to see," Kailea said.
The pair said they were motivated after the class sat down together to learn about the Stable One success story of James, a man who had been living in his car in Chirnside Park.
"It gave us motivation because he's a local to our area. Everyone goes to Chirnside Park, so we wanted to help give so that less people are in that situation," Kailea said.
Fellow students Mon and Skye believe it's important to have new clothing donated rather than second-hand clothes so that someone can have the joy of opening a new item or ripping off a label, something they say can easily be taken for granted.
Stable One Yarra Ranges is a charity made up of several local churches, who assist the homeless community in the area with temporary supported accommodation. Over the last three years they have supported 90 people in need.
Stable One founder Jenny Willetts said: "It's not just about providing a roof. It's about connecting people to the help they need, which will allow them to take steps forward.
"We're all really learning about isolation at the moment when people who are homeless have always been feeling isolated."
For more information about Stable One, visit https://stableone.org. To contribute to Cire's GoFundMe, visit https://gf.me/u/x8rmix