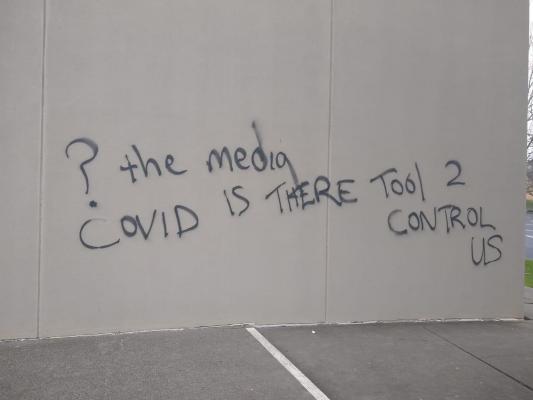 By Jed Lanyon
Yarra Glen has been vandalised with several Covid-19 conspiracy related tags across the weekend, including a mural dedicated to Black Saturday bushfire victims.
Graffiti questioning the Coronavirus pandemic was found in multiple locations in the town featuring the words, 'Covid is a lie' and other anti-police and anti-media rhetoric.
Yarra Glen's bushfire memorial was created by local artist Ernst Fries in 2013 as a tribute to all of the people who lost their lives on Black Saturday.
The memorial artwork was graffitied with the words 'F— Cops. They do as told not whats right'.
Mr Fries, who passed away in March, created the mural with coloured glass, which is designed to amplify the sun's rays as they penetrate and reflect, making the work sparkle and shine.
Yarra Glen Police Sargeant Richard Coulson said they were investigating the graffiti, labelling it as "unnecessary vandalism to property".
"We're looking into five instances of graffiti in the town that occurred between 9pm on Saturday 25 July and 7am Sunday 26 July.
"There's been several Covid-19 related tags sprayed along the walls at five different locations," he said.
"Police are currently checking the CCTV footage. It's just disappointing that someone would resort to graffiti to get their message across in this scenario."
Sgt Coulson welcomed anyone with information about the graffiti to contact Yarra Glen Police Station on 9730 1296 or to contact Crime Stoppers.
"It's rare to see in this town, so we'd like to get to the bottom of it."