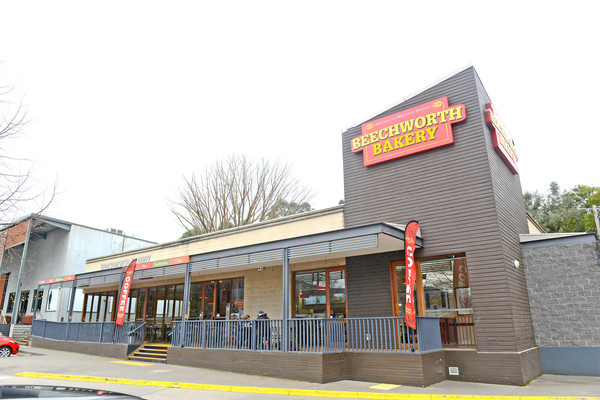 By Romy Stephens and Jed Lanyon
Numerous Yarra Ranges' businesses are facing a 'challenge for survival' over the next six weeks, as Victoria adapts to Stage 4 restrictions.
Dramatic changes to workplaces across Melbourne were introduced at midnight on 6 August in a bid to combat the spread of Covid-19.
This included some industries being forced to close, others – such as construction and food production – operating at reduced capacity and essential stores such as supermarkets and pharmacies remaining open.
The new restrictions saw hairdressers close for the first time since the pandemic began and major hardware stores, such as Bunnings and Mitre 10, having to move to mostly online services.
Childcare services were also impacted, with only children from workers with a permit allowed to attend childcare.
Beechworth Bakery manager Kylie Bray shared some of the new challenges faced by the business.
"We've been forced into reducing hours for our staff, reduced our opening hours, our turnover has been reduced and what we're producing has been reduced as well," she said. "It's a knock on effect right along and it's affecting every part of the business.
"We're still operating as an open business from 7am to 4pm daily. We've got a click and collect system up and running as well. While we can't offer delivery, we can have contactless out to the car so customers don't have to come inside."
Ms Bray urges customers to go online to make an order or to call ahead.
"We're open and we're ready. No order is too small, we're here to serve our locals and our customer base. We might not look the way people are used to, but the service is still there."
Beth Henke runs Hire a Hubby Upwey with her husband, Richard. She said they were "willing to bunker down" for six weeks, but there was no doubt the financial impacts would be significant.
"We totally understand and respect this needs to happen going forward…But for small businesses like ours, we can't work from home," she said.
"It's a huge financial setback for us, we've got three young kids, we'll just have to get through it."
Ms Henke said there were added complications for businesses like hers, with management fees still having to go to Hire a Hubby head office.
"They still expect us to pay those fees, even though we cannot work," Ms Henke said.
"It's an added stress on top of having to worry about just keeping the roof over our head and our kids safe."
The owner of Hair for the Hills hair salon in Olinda, Jessica Birch, said that despite the prospect of having no income for six weeks being daunting, she felt her business was in a good position.
"It was very sudden, I didn't think we were going to go into lockdown but in terms of the business, it will hibernate quite well," she said.
"JobKeeper helps and I've paid off my business loan. Basically, I have my overheads which aren't overly huge."
Ms Birch said that being in a small community that had provided "amazing" support gave her confidence that she could return to a busy salon once restrictions were lifted.
However, Yarra Valley Business secretary Alex Lagerway said for some business owners and operators, the next six weeks would be a "question of survival."
"It just cuts deeper, it's just a challenge for survival for the businesses that have been arbitrarily closed down," he said.
"Small business exists everywhere. The ones you feel for the most are the ones that are whole dependent on the income to meet their financial and family commitments.
"The other side of it that seems to be understated is the mental impact, the psychological impact, it messes with your brain because we're not built for this, we're communal."
Following the announcement of Stage 4 restrictions in metropolitan Melbourne, the federal government updated JobKeeper for Victorian businesses.
Under the new changes, Victorian businesses now only need to show a fall in turnover in the quarter to the end of September, compared to the same period last year. The previous rules announced on 21 July meant that companies had to show a fall in turnover in the June, September and December quarters of this year in order to remain eligible for the wage subsidy.
However, with companies restarting in June as restrictions were eased, there was risk many businesses would not meet the scheme's turnover reduction threshold in the September quarter.
Further changes include coverage for people employed on 1 July, rather than 1 March, ensuring new staff will be able to receive the payments if their employer is struggling.
Ms Bray said she welcomes the new changes to JobKeeper for Victorian businesses.
"We were lucky in the fact that a lot of our staff were long term anyway, so they went on JobKeeper at the beginning," Ms Bray said.
"We did have some staff members miss out by a week, which was really disheartening to tell them they didn't meet the criteria, but it was very black and white at that point. So that will help out a few of our casuals and will be good for us to try and keep as many employees as we can through this time."
Last week was also busy for children's services, with the State Government announcement that only permitted workers would be able to send their children to childcare.
Gembrook's Little Gems Early Learning owner Liz Falcone said the list of permitted workers was released at 1am on 6 August – just after the ruling came in.
"It was extremely stressful. I had hundreds of stressed parents looking to me for guidance," she said.
"There are still a lot of families that are unsure, there are a lot of employers that are unsure of these work permits because the legal onus becomes theirs.
Ms Falcone also said that despite still being open, things would look different at the centre over the next six weeks.
"I've got half of my staff that would usually be in today not in and I expect it will be similar next week.
"We're not closed, it's not ideal but it feels wrong being here without our children being here."
For more information about permitted workers during Stage 4 restrictions, visit https://www.dhhs.vic.gov.au/permitted-worker-scheme-covid-19.