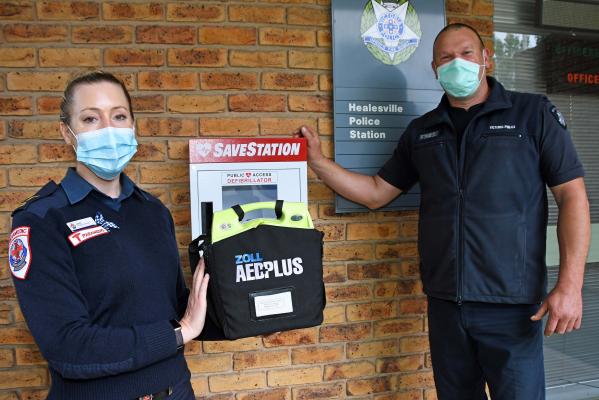 By Jed Lanyon
Do you know where your closest Automated External Defibrillator (AED) is located?
Ambulance Victoria has launched Shocktober after recent research revealed a 50 per cent decline in cardiac arrest survival rates during the first wave of Covid-19 restrictions in Victoria.
Ambulance Victoria CEO, Associate Professor Tony Walker, said Shocktober is the largest campaign the service has ever launched.
"We are on a mission to make the month of October one that equips all 6.7 million Victorians with the know-how to do basic CPR and to locate their nearest AED," he said.
"Every day, around 18 Victorians will have a cardiac arrest, with only 1 in 10 surviving.
"We know that bystander intervention has the greatest impact on improving that survival rate.
"Performing CPR and using an AED to shock the heart lifts the chances of survival by 68 per cent."
Acting Team Manager of Healesville Ambulance Station, Laura Wirth, said she was "devastated" to hear of the recent decline in survival rate and urged Yarra Ranges residents to take part in Shocktober's free online session on how to perform CPR and to use an AED.
"It's a lot easier than what people may think. Eliminating the fear around using an AED is our focus," she said.
"What we want people to do is to go online and find out where their closest AED is."
A year ago, Healesville didn't have any publicly accessible AEDs according to Ms Wirth. Now the town features several, including six that are available 24 hours a day.
"You can go up to them at any point in time, take it and use it on someone who is experiencing cardiac arrest," she said.
"If someone has a normal heart rhythm, it won't let you shock them. But if it's in a rhythm that's going to lead to death, it will shock the person and hopefully bring them back to life.
"You turn it on and it talks to you, it tells you exactly where it needs to go on the person and will tell you step-by-step what to do."
Ms Wirth joined Healesville Sargeant Stewart Thomson to highlight a new AED installed out the front of Healesville Police Station, donated by Ambulance Victoria. She said Healesville had specifically been chosen as a 'heart safe community'.
Acting Senior Team Manager – Yarra Ranges, Shaun Caulfield, urged local businesses and sports clubs who have an AED, to register it with Ambulance Victoria and prioritise its location to maximise its accessibility.
"If you can mount it in a location where it's available 24 hours a day, so on the outside of your building somewhere that's easy to locate and where people can see, that can literally help save a life.
Mr Caulfield rejected the idea of the equipment being a target for vandalism stating the rate of incidence is "incredibly low".
He explained the Warburton Community Bank Branch as the perfect example of a 24 hour accessible AED as the bank recently fitted one outside nearby an ATM.
"It's well lit and easy for people to find at night. A bank's ATM is generally accessible as part of their business model and there is actually CCTV there that would act as a deterrent for the small number of people who are that way inclined. But historically, the number of people maliciously tampering with them is low.
"A classic example is the footy club, it's great to have a defibrillator, but it's often only available during game day between 8am and 1pm on a Sunday during footy season and the same hours on a Saturday during cricket season and training nights.
"It's not something the general public can put in their minds that they can go down to the footy club and find an AED because the shutter will be down."
Ms Wirth and Mr Caulfield are urging Yarra Ranges residents to learn the following as part of Shocktober:
Getting on the internet and visiting ambulance.vic.gov.au to find out where their
nearest AED is located
Knowing how to perform CPR and when to use an AED
Encouraging businesses and schools that own an AED to ensure it is registered via the Ambulance Victoria website and made publicly accessible so Triple Zero (000) call-takers can direct people to it in an emergency.
To take part in an online training session on Thursday October 15 at 7pm, register your name and location at community.engagement@ambulance.vic.gov.au