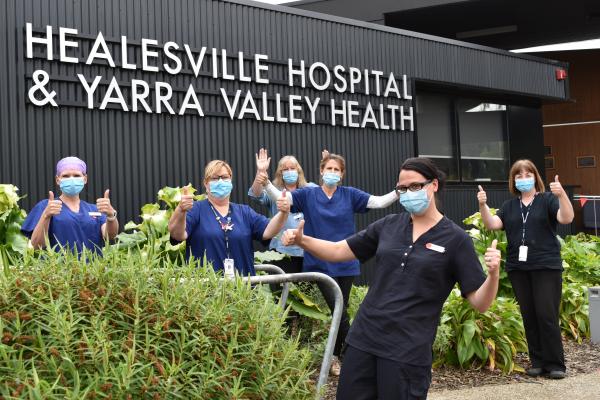 By Jed Lanyon
The Shire of Yarra Ranges has today recorded zero active Covid-19 cases, marking a significant local milestone in the long fight to contain the coronavirus outbreak in Victoria.
The Department of Health and Human Services (DHHS) recorded zero active coronavirus cases in the Yarra Ranges on Sunday 18 October, encompassing areas from Yarra Glen to Chirnside Park, Warburton to Kilsyth being free of the virus.
It's been a difficult year for Victorians as Covid-19 cases broke out of control across the state leading to harsh restrictions enacted in an effort to suppress the virus.
But now Yarra Ranges joins five other Metropolitan Melbourne local government areas to reach zero active cases, with neighboring councils, Maroondah, Cardinia and Nillumbik all reaching the mark in the outer east. The other two being Kingston and Mornington Peninsula.
Eastern Health's Clinical Director Ambulatory Care, Dr Penny Gaskell said reaching zero cases was "very exciting" and a "huge achievement" considering active cases in the Yarra Ranges had peaked at 140 on 6-7 July. The region has experienced a total of 251 cases to date.
"I say that with a level of cautious optimism because of course we want to maintain this level," she said. "We want to encourage people to still get tested and we don't want to be complacent.
"It's great work by the community for following all the harsh restrictions and for taking care of each other.
"Thank you to everybody for sticking with it and doing the best they can, it has to be a community and team effort to beat this thing."
Ms Gaskell spoke about Eastern Health's strong presence in the region, citing that healthcare workers had to be flexible in the ways we adapt to the pandemic.
The work of Eastern Health has seen swabbing clinics set up in towns as well as mobile testing clinics for those who are vulnerable or couldn't make it to Lilydale or Healesville.
Eastern Health's Covid Pathways Project saw the organisation partner with community health providers to support people with things like shopping or helping them get medication.
"That's been a really important form of support so people don't have to leave their homes," Ms Gaskell said.
"A big piece of work Eastern Health has done in Lilydale is supporting outbreak management, where there has been outbreaks in aged care or residential warding houses. We've done a lot of work caring for the people inside and supporting staff.
"Our comms teams have done a lot of work on social media with their Covid safe messaging and letting people know where to get tested and access services."
A shift to 'telehealth' for specialist care has allowed patients to receive advice and support from the comfort of their home.
Despite reaching zero cases, Ms Gaskell urged locals to remain vigilant when it comes to containing the coronavirus.
"It's very important because obviously we know one case can multiply very quickly. We don't want a third wave, we want people to get back to a normal life as soon as possible and that's why it's extremely important to get tested if you have the symptoms."
When asked to describe what the year 2020 has been like for healthcare workers, Ms Gaskell used the word "challenging" but said it has fostered a strong collaborative work ethic in the health industry.
"Everybody is working their hardest and at their best so it has been a positive in that respect… The team I'm working with at Eastern Health are an extraordinary group of people."
Yarra Ranges Council Mayor Richard Higgins said he was "very proud" to see the work of residents help eliminate the coronavirus from the area.
"On behalf of Yarra Ranges Council, we would like to thank all emergency service and healthcare workers for their commitment where they are putting themselves at risk. Without them, we wouldn't be where we are.
"While we put our thoughts out to anybody who may have lost loved ones during this time. It's definitely a thought that is front of mind while we're stuck about at home, there are people out there who have lost loved ones and our heart goes out for them."
Mr Higgins shared council's recent bid to the state government to have remote areas of the Shire reclassified as regional had ultimately failed.
As a member of Victoria Police, Mr Higgins gave some insight on how the pandemic had impacted law enforcement.
"It has changed the way police have attended to things," he said. "Curfews were an interesting time and hopefully something we never have to see again. Patrolling the streets when there were no cars around was interesting for our members."
Mr Higgins said that officers were sympathetic to the community's plight and understanding of the hardships they faced, while also surprised at the disregard of restrictions by few.
While the Shire of Yarra Ranges has no active cases, it may not always stay that way as metropolitan Melbourne continues to grapple with containing Covid-19, Ms Gaskell urges residents to get tested when experiencing coronavirus symptoms which include a cough, fever, shortness of breath or tiredness.