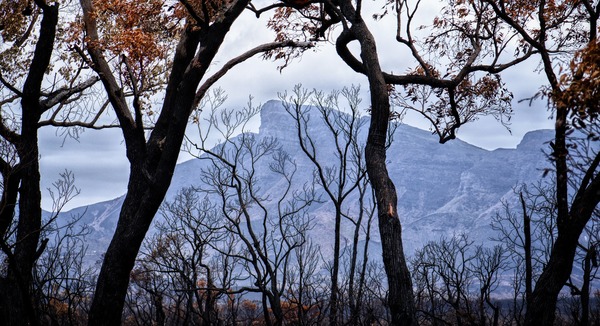 By Jed Lanyon
Victoria Police is turning up the heat on firebugs and those acting recklessly ahead of the upcoming bushfire season.
As the weather warms up and the risk of fire increases, Victoria Police will be targeting people who display reckless behaviour this summer through Operation Safeguard.
While dusting off the barbecue or preparing for harvest is the priority for some, the annual police operation aims to deter or reduce the impact of intentional and recklessly lit fires across Victoria.
Superintendent Tony Glenane told Star Mail the Shire of Yarra Ranges will be a focus under the operation, which will see police maintain a high level of visibility particularly on days of high fire danger.
"This time of year we start gearing up and training ahead of the bushfire season and look at what's likely to occur and set our sights on reckless behaviour," he said.
"We want to put a stop to the kinds of stupid things that may lead to a fire taking off on us, which can cause damage and loss of life."
Supt Glenane said Yarra Ranges residents can expect to see a greater number of uniformed police officers in the area as well as plain clothed officers on the lookout for people who might intentionally set out about lighting a fire.
Last summer alone saw Victoria Police issue 26 charges for fire-related offences due to reckless behaviour.
Anyone found guilty of recklessly or intentionally causing a bushfire faces a penalty of up to 15 years imprisonment, while lighting a fire on a total fire ban day can attract a fine of up to $39,000 or up to two years in jail.
"Police are guided by intelligence and we do look at arsonists and people of interest throughout the year. We look at hotspots and we certainly target those people and those areas on high risk days."
Supt Glenane said that while there are those who intentionally light fires, the majority of cases come as a result unintentionally through careless behaviour. But the result is still the same.
"It comes through poor decision making and reckless actions. People can get complacent and don't see the risk their actions pose to the community.
"Especially on those high risk days, you've got people burning off or lighting campfires or bonfires. It's just careless actions without thinking about the sort of impact it might have."
Assistant Commissioner Michael Grainger said the community will play an incredibly important role in the prevention of bushfires and will be key in reporting reckless or suspicious behaviour.
"The devastating impact from last year's bushfires are still very fresh for the affected communities and emergency service responders," AC Grainger said.
"Be mindful of your activities during the fire season, especially during fire danger periods – it could be your actions that result in loss of life or property.
"We need to look out for each other but also hold each other to account when it comes to the behaviours that could lead to bushfires – we are all in this together."
Supt Glenane urged locals to "think before you act" ahead of Operation Safeguard, which will run from mid-November to March.
Anyone who witnesses suspicious behaviour as it is occurring should call Triple Zero (000) and anyone with information should contact Crime Stoppers on 1800 333 000 or www.crimestoppersvic.com.au
The most common causes of recklessly lit fires are:
• burning off
• campfires
• car exhausts and machinery
• use of tools such as angle grinders and welding equipment out in the open
• bonfires and flares
• farming machinery such as slashers and harvesters.