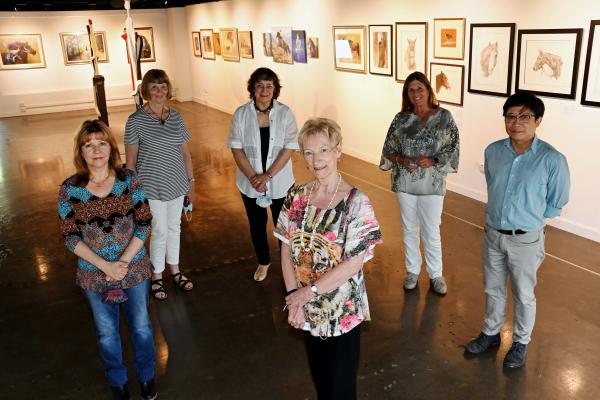 By Jed Lanyon
YAVA Gallery and Arts Hub has launched into 2021 with a new exhibition highlighting the works of 13 local artists.
The exhibition, HORSE, showcases everything equine as horses make home to many of the Yarra Ranges sprawling paddocks and farmland.
YAVA CEO Kate Baker said horses have long held a powerful presence in artwork.
"It's about horses having such a strong and pivotal kind of presence in great works of art but also an important symbol within the Yarra Valley," she said.
"It's one of those animals that you will see a lot and whether people ride them, have them on their properties or even have an emotional connection, they can impact people in a lot of powerful ways."
"We have a range of different genres and different mediums. And different levels of focus and different approaches as to how each artist sees the horse.
"I hope that it will resonate with (visitors') experience or notion of the horse and also that it will open their minds and hearts to different interpretations."
YAVA's gallery is full of a variety of art ranging from charcoal graphite sketches, oil and pastel works to 3D felt artworks, sculptures and more.
The exhibition is described as a playful and spirited one, celebrating the role the majestic animal has played across cultures and in the artists' personal experience.
Artists in the exhibition include: Agnes Szetey, Amanda Lithgow, Cathie Berry, Di King, Kate Taylor, Kerryl Shirley, Khoi Bui, Savaad Felich, Julie Ricketts, Wilani Van Wyk-Smit and Mary Newham.
Ms Szetey and Ms King are both longtime Healesville residents and hope Yarra Ranges locals and travellers from Melbourne enjoy the variety of artists on display.
"They (visitors) can appreciate the different and diverse types of styles that each artist has," Ms King said.
"Those who want to learn to paint can see the quality of the work on the walls and join YAVA and be a part of this beautiful art space in our community.
"They (local residents) can appreciate that we have this gallery out here and that they don't have to go into the city and suburbs… This is a great place to come and visit."