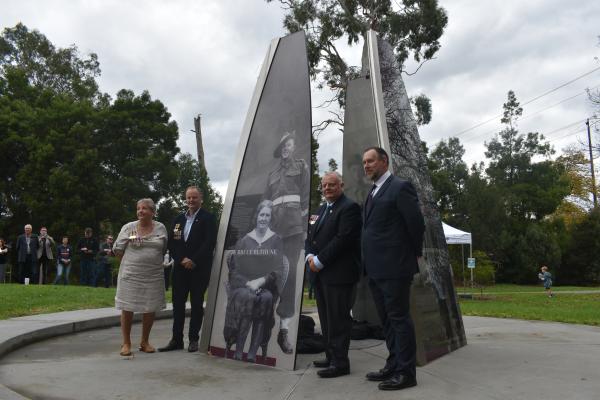 By Jed Lanyon
The completed Seville War Memorial was unveiled to the community on Anzac Day as the remaining three panels honouring Seville soldiers now stand tall in a prominent position in the township.
The memorial features four glass panels reaching four metres high each displaying a soldier who contributed to Australia's war efforts.
In 2019, the first panel was unveiled showcasing George Ingram, the Yarra Valley's only Victoria Cross recipient. The weekend saw George Cassidy, Bruce Bethune and Bert Read honoured on the remaining three panels to complete the project.
Chair of the Seville War Memorial Committee Anthony McAleer welcomed Casey MP Tony Smith, Lieutenant Colonel Colin Thomas Commanding Officer – 4/19th Prince of Wales' Light Horse Regiment and Deputy Mayor David Eastham spoke on behalf of each of the three soldiers that were commemorated with memorial panels.
The Seville War Memorial Committee organised for the descendants of the soldiers to reveal the panels to a large crowd in attendance.
"The locals, particularly the school students, can see the faces and read the stories about the service of people who were just like them. Who grew up, went to school but went on to serve and paid the ultimate sacrifice," said Tony Smith following the service.
George Cassidy
George Cassidy was just 16 years old when he left his job at the Lilydale Railway Station and forged his age as 18 to enlist in the Australian Light Force.
After his initial training he was sent to the Middle East as a reinforcement for the 4th Australian Light Horse Regiment, the unit who were famous chargers at Beersheba.
George's granddaughter Jenny Cassidy, was one of the family members on hand to unveil the glass panel on Anzac Day.
"We're fairly excited and proud about it. I think he would have been very surprised that he's there," she said. "It's the classic 'he didn't talk about it much', he wasn't a member of the RSL or anything I think maybe because he was fairly busy on his orchard after he came back from the War.
"He didn't pass on many stories but the stories I know about were passed on from my father and they were mostly funny stories about what had happened in his time there. He certainly didn't regard himself as a hero, that's for sure, but he was overseas for three years.
George was a porter at Lilydale station before he went and all of them joined up. During the last week, the whole eligible staff at Lilydale Railway Station decided to "follow the flag".
Excerpts of the Healesville and Yarra Glen Guardian newspaper from March 1917 details George leading the way in enlisting among Lilydale Railway Station staff:
"During the last week, practically the whole eligible staff at the Lilydale Railway Station decided to follow the flag. Mr G. F. Cassidy was the first to make up his mind, and he was successful in his application… The people of the district may well be proud of the Lilydale Station's record and it augurs well for recruiting efforts."
In a letter sent home, which was published in the Healesville and Yarra Glen Guardian in 1919, George details events of his time as a signaller in the 4th Light Horse Regiment in April 1918.
"At 3.30am we were awakened rather roughly and told that we may have to charge at any time. All I could hear was the crackle of rifles, machine guns and the roar of bursting shells a few hundred yards to our right.
"The flashing of star shells, which I believe are the signals for artillery fire looked very beautiful in the half light, each different colour meaning different batteries, but I had no time to think of their charm."
George's panel features an image of him when he first enlisted alongside the letter to his family highlighting the gruesome circumstances of his experience of a charge in the Jordan Valley.
He finished the letter to his family, stating: "I hope the next time I have energy enough to talk of this country, it will be in our own little dining room."
Seville War Memorial Committee chair Anthony McAleer said they purposely made the memorials emotive.
"This is something we want to carry on for generations to come," he said. "In 100 years people can read those stories and still be moved by them and what their experiences were."
"I think it's great and it's very creative," Jenny said. "I think it will create a lot of interest and knowledge about the first world war and the second world war."
George also contributed to Australia's efforts in WW2 by joining the Volunteer Defence Corps.
Jenny said the men on the panels represent not only Seville, but symbolise ordinary young men of their time, who went to war from small country towns.
"The contrast between those small towns and Gallipoli, France, Jordan and Palestine must have been truly amazing.
"They symbolise men, who returned to their community and contributed in a range of ways."
Bruce Bethune
At the age of 18, Bruce Bethune was called up for service in World War II in the militia and was allocated to the 24th Battalion, a unit that covered the Yarra Valley area.
Bruce's panel was unveiled by his nieces and nephews Alister and Ian Johnson and Helen Adam.
"When Bruce joined up, he joined up initially in the militia. Because there was a shortage of troops, they got word that the militia was going to New Guinea," said Alister.
Bruce's father, Malcolm Bethune, knew the horrors of war all too well having served in World War I and demanded Bruce to enlist in the Australian Imperial Force (AIF), where he ended up in the 24th Battalion.
"Grandpa didn't want him to go. Because Grandpa fought in France in the first world war and he saw enough to know that there's no good that comes out of war."
In February 1943, Bruce was sent to New Guinea and was in the front line with the battalion during their campaign at Wau, Salamaua, Lae and the Markham Valley. In October 1943 they were moved to the Nadzab region and while on patrol in the jungles on 14 October, Bruce drowned following an extreme weather event.
"They camped in this very steep ravine, well above the water level. Well, well above it apparently, from what I've read in his stories," said Alister. "Up in the mountains, there was a cloud burst and a 15 foot wall of water came down and it swept them away.
"Everyone got away, except Bruce. They found his body the next morning two miles down the stream. It (the storm) took out all the natives and everything, it wasn't as if they were idiots for being there, it wiped out the natives too.
"He's not classified as 'killed in action', but he was killed in active service."
Alister said his mother, Margaret (Bruce's sister), always wanted to travel to New Guinea to see Bruce's grave.
"It was one regret that mum never got to go and see her brother's grave. It was a pretty important thing to mum and that's why we're really proud it has come to this and Bruce is being honoured."
Margaret had kept many of Bruce's possessions in a suitcase which was found recently by her family.
The suitcase contained photo albums, letters and telegrams, including the one advising his family of Bruce's death, as well as personal items from his service. The items, which include several small bibles and journals, empty magazine rounds, shrapnel believed to be from a bomb, medals, belts, caps and a pencil that had been whittled down at either end to the point where it could barely be held for writing.
"I suppose you'd have to make the most of a pencil. These days we'd chuck it away when it was about five times the length of that," said Ian Johnson sorting through his uncle's belongings.
Most importantly, the suitcase contains Bruce's personal wallet that his family members believed to have been on his person when he drowned, judging by the water damage to a family photo inside that survived.
Alister and Ian said they were impressed with the panel's design, despite being initially skeptical of the idea at first. The memorial features imagery of Bruce and his mother. He hopes community members can learn from the experiences of all of the soldiers on the memorial panels.
"When we were 20 years of age, all we were interested in was chasing girls and having a good time," Alister said. "These blokes were over there risking their lives and all that sort of thing. I've got three kids now and they're all over 20. I just could not imagine them going into something like that."
Bert Read
Bert (Hubert) Lindsay Read was amongst the first to enlist in the war in August 1914.
He was in the second wave of landings at Gallipoli with the 6th Battalion on April 25 1915.
Jenny Cassidy lived close to Bert when she was young, but she said she never knew he was at Gallipoli.
"I started doing research on my grandfather, so I've done quite a bit of family history research. And then quite a lot of research on World War I in relation to my work as a teacher and that's when I discovered that Bert was at the landing at Gallipoli.
"When we were young, we were walking around with World War I men, but we had no idea really what had happened to them."
Jenny recalls seeing Bert wearing an eye-patch. Anthony McAleer's book, A Stretcher Bearer's War, explains the story of how Bert's eye was injured by a bullet.
"A stretcher-bearer came along and checked him and thought he was dead and decided to leave him. Ralph (Goode) came up soon after and recognised Bert and gave him a thorough examination and discovered he was still alive and thus arranged for him to be sent to hospital and eventually evacuated."
Bert sent a letter to his sister Flo from Malta in May 1915, where he explained his injuries.
"The bullet cut my eyebrow and went in at the corner of my eye and came out just above my ear the left eye and ear… I am getting on well I can see a little bit out of my left eye now and the treatment we get is lovely."
Bert returned home and was a great supporter of the Seville community as a life member of the Seville Cricket Club, a financial supporter of the Seville Football Club, was a member of the Seville Fire Brigade, helped form the Seville Tennis Club and contributed to the Seville War Memorial Swimming Pool, now the Water Play Park.
Bert's panel was unveiled by his great-nephews Jim and Rex Blanksby as well as Tony Smith and Bridget Vallence.
"It's fabulous to have such great recognition… He's an icon for Seville," said Jim.