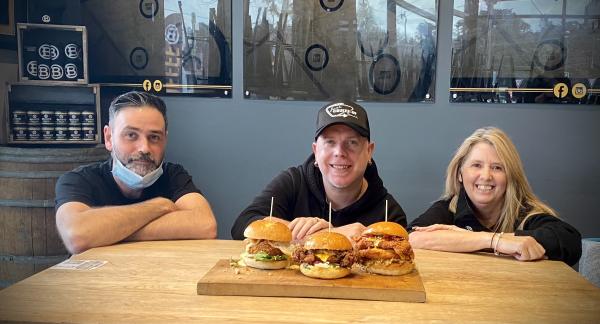 By Jed Lanyon
Amidst another crippling lockdown for small businesses, three Yarra Valley restaurants have come together to help those sleeping rough this winter.
Across the month of June, Seville's Branded Burgers and Bar, Kilsyth's Just Cruize-In Diner and Healesville's My Little Kitchen have teamed up to raise funds to purchase backpack beds for those in need across the region.
The 'Burgers 4 Beds' campaign will see each restaurant craft a signature burger with proceeds going towards Lilydale support organisation Holy Fools.
Branded Burger and Bar co-owner Gina Braidner said her restaurant's double chicken burger features a house made chilli jam to "warm up" burger lovers of the Yarra Valley. 100 per cent of the burger's proceeds will go towards the Burgers 4 Beds.
"I was lying in bed one night, it was freezing cold on one of those nights where it was minus one degrees," she said.
Ms Braidner said she thought about those who didn't have a warm bed to sleep in and made a call to Holy Fools founder and CEO, Neal Taylor, who shared there are about 300 people sleeping rough across the Yarra Ranges.
"It hit home that it's not good enough and I thought, what can I do to help?"
And it comes as Melbourne experiences a recent cold snap. Coldstream was one of many locations across the state to experience its lowest May minimum temperature on record at -3.0 degrees celsius, according to the Bureau of Meteorology.
The city fell to 1.7 degrees celsius on the morning of Sunday 30 May, the coldest May morning in Melbourne for over 70 years.
Ms Braidner's business has started serving community meals again for those in need and has seen first-hand the impacts of the latest lockdown.
"This time around there is a totally different shift, people are in more need and they need the help now more than ever at the moment," she said.
"We've taken phone calls and messages confidentially and found a mother of four with seven cents in the bank to last a week. Another mum said she has $15 for herself and her three year old daughter to last a fortnight.
"It's awful, I feel quite helpless."
Over in Kilsyth, Just Cruize-In Diner are pushing their deep south fried chicken burger as part of the Burgers 4 Beds campaign, where $5 from every burger purchase goes towards buying the backpack beds.
Restaurant owner, Paul Tarlato, said he was inspired to help after learning about the experience of one of his staff members, who had spent time sleeping rough.
"We're all family, we're all from the Yarra Valley, so we should support each other. It's as simple as that.
"I've known a lot of people from the city and I've seen these things happen, where they're sleeping with no beds and then even for local people."
My Little Kitchen owner and chef, Ben Arnold, said Ms Braidner was the mastermind behind the campaign idea.
"Gina's an incredible community leader and has been for a really long time. She's an inspiration to us and has been a good support over the last 18 months through Covid.
My Little Kitchen's burger provides a twist on a popular breakfast menu item and will see 100 per cent of the proceeds towards the cause.
"We've done a play on an eggs benedict," Mr Arnold said. "The burger is a crispy fried pork terrine and comes with hollandaise sauce, crackling, fried egg, relish and a fennell and soft herb salad.
"It's a nod to a popular menu item we had over the summer. So popular that we had to pull it off because we couldn't keep up with it. But I thought why not smash this in a bun and turn it into a burger.
"It's more important than ever now… For me, I'm having a whinge everyday because we're quiet and we haven't got customers in here, but I get to go home to a warm bed and a fire, when so many in our community don't get to do that at the moment.
"There's huge demand for emergency housing, which has been a massive issue in the Yarra Ranges for a very long time and it really needs to be addressed. This (campaign) isn't a fix by any stretch, it's just a good way to try and make it a little bit more comfortable for people before they can access emergency housing."
Mr Taylor expressed his thanks to the businesses for coming together for a good cause and explained the purpose of the backpack beds.
"I think it's fantastic because it's the community working together, not just the businesses, it's the Yarra Ranges community who will be buying the burgers to help solve one of these crises.
"I've always said we are not going to solve or work towards ending homelessness unless the community can get involved in a more active way and this is a good example of how they can.
"It's a bed designed to accommodate someone sleeping rough that they can put their clothing in, hide their phone and valuables in the bed itself. They can carry the bed on their back easily and when they do have somewhere safe to put it up, it is easy to put up, water proof, fire retardant.
"It just gives them a chance to have a bit more comfort than if they just had a blanket or cardboard."