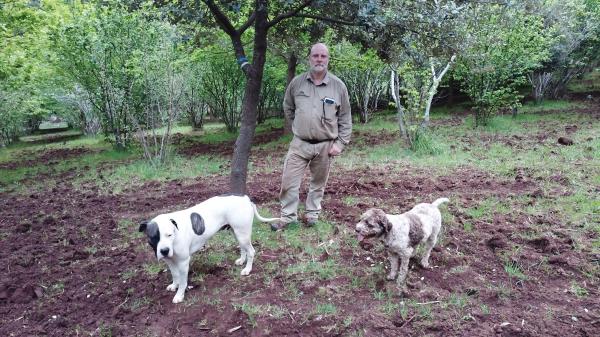 By Renee Wood
It's an auspicious fruiting body of fungus that many may believe is 'too expensive' and 'only for fancy restaurants' – a portrayal one farmer thinks isn't doing the Black Perigord Truffle's reputation any justice.
Yarra Valley Truffles Stuart Dunbar harvested his first Perigord in 2011 at his Woori Yallock 1ha truffiére, and since then he's sold his produce to the hospitality market, exports and through farm gate sales.
When hearing Stuart break down the cost and portion sizes you quickly find out that the believed opinion isn't quite right for the swirling flavour of the humble fungi.
Stuart sells his truffle at $3 a gram, with just 3-5 grams needed per dish – although still higher than most ingredients it sounds quite reasonable for a special occasion at home.
"If you've got a decent quality bottle of wine on the table, the truffle is about half the cost of the wine and if you have guests over, 12 months later they'll be talking about the truffle – they won't remember what wine you served," Stuart said.
It may be the hype around the lucrative $6000 a kilo white Piedmont Truffle that's only found in the wild in Europe that's forcing the perception of Victorian grown black truffle as unreachable.
"I've been a force in guiding that, discussing truffles per gram not per kilo, because I don't eat a kilo in a season, nowhere near it."
But unfortunately when you dig deeper into the soil it seems 'the high cost' opinion is not the only issue the industry is currently dealing with, as Stuart said he's not hopeful of a bright future ahead for small growers.
Yarra Valley Truffles is one of six farms in the state and for the past two seasons the local industry has been grated down and bruised by Covid-19 lockdowns.
No exports, a closed hospitality and tourism industry and farm gate sales out of many peoples Covid-19 travel bubble have all painted a bleak path forward for small growers.
"In terms of the future of the industry – I question whether there's actually an industry and whether it has a future."
Stuart said the pandemic has only accelerated a downfall for small growers across the world.
"The information I got from Denmark, from Europe from New York, their sales were half of what they'd been in previous years and as soon as those other couple of companies start to ramp up in orders they're probably going to have the majority of Australia's production within a couple of years.
"And at the same time, there's been some large orchards planted in the southern hemisphere in Chile, Argentina, South Africa and they will be beginning to produce some significant volume into the market as well."
Yarra Valley Truffles exported goods in 2019 and 2020 but that revenue dried up this year.
Stuart believes a lot of the export market out of Australia is being absorbed by big farms in Western Australia who are setting the benchmark of lower pricing and high quantities – something small growers can't keep up with.
According to the Western Australian Agriculture department, in 2019 the state had 70 known truffle orchards covering just over 300 hectares and less than half of those had reached maturity.
"In 2019, WA exported just under eight tonnes of Tuber melanosporum black truffles. WA accounted for almost 90 per cent of truffle exports from Australia," stated on the WA Agriculture Department website.
Stuart said his 2019 export to New York was around $1200 dollars, but the following year the buyer said he wouldn't pay more than $480, which is the price he was getting from Western Australia producers.
"It's an uphill battle to try and market a quality product into a market determined by price."
Stuart prices his produce with high price for high quality and lower prices for lower quality truffles, due to the product changes quickly after it leaves the ground.
"One of the ways people try and cut costs is they rip it out of the ground at the first aroma, which results in a truffle with low flavour and a short shelf life.
"Chefs wouldn't buy a dried up vanilla bean they want a greasy nice subtle fresh top quality vanilla. But too often when it comes to truffle the only decision being made is on price."
Stuart also sells into local cafes and online sales, but even going online has its own battles.
Many of his deliveries were late and spoiled, while postal services get swamped by thousands of orders from other businesses also making the switch online.
"On the 31st of August I sent four parcels, three of them took two days to arrive and one of the pre-order for Father's Day took two weeks to deliver and by the time it's well out of it's fresh and I'd already arranged to hand deliver a replacement to the customer."
This comes at a time when Australia Post has suspended it's Express Post next-business day delivery guarantee due to the current circumstances.
Despite all the setbacks, Stuart's still passionate and driven to stay in the industry, working on his property daily to get ready for the next season with his truffle hunting companions by his side Lani and Jäger.
Stuart's also now trialing snap frozen practices this year to ensure his harvest doesn't go to waste as each year he looks to enter into a new market.
"It will be in a way starting again from scratch in terms of finding a way to market that, I think it's got some potential because in particular with hospitality I've got the chance to go and market to them as here's something special to get customers in the door."
Until then Stuart will be sharing his kitchen experiment dishes on his Instagram, to inspire more foodies to spice up the kitchen with a truffle infused bang.
"I've given a few people [frozen] samples and mentioned that post lockdown if they really wanted to try truffle they can come get some frozen and I'll be doing a lot more experiments with cooking over the next few weeks to get that online to be able to advise people on how to use that."