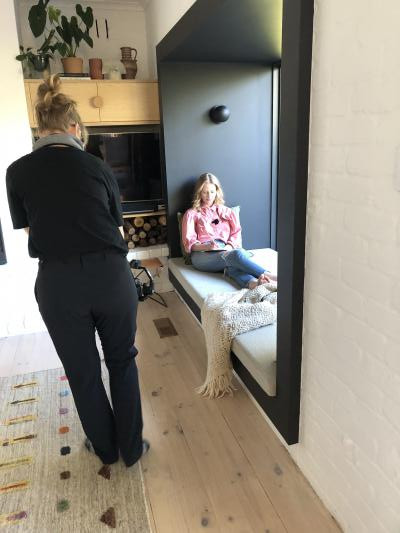 By Renee Wood
The Covid-19 pandemic has left its mark on the history books, remembered for its upheaval of society and changes to daily life.
The creative sector has been one of the biggest hit, faced with closed events, limiting community connections and a large move towards an online way of life.
But there has been times of opportunity and growth, with artists drawing on their creativity and natural surroundings to find strength and perseverance – and this is the story that's being told through a new documentary about creative women in the Yarra Ranges.
Director Pearley Jones set out to archive this moment in time for creative women through a documentary, a project supported by the Yarra Ranges Council.
Now after months of filming and editing, the live launch of 'Women Artists Documentary : Creative Ladies in the Hills and Valleys' will be held on Wednesday 27 October.
Ms Jones said she's excited to be sharing the film with the broader community.
"It's been such a great team effort, we've had such wonderful artists participate in this project, and have also had a wonderful collaborative and if the watch for we need to share this, and we need to celebrate the story in collaboration with Yarra Ranges Councillors who have supported it with funding," Ms Jones said.
Videographer Vanessa White worked with the director to capture five women and their stories – Alana Langan a Designer Stylist from Upwey, Clair Bremner an artist from Warburton, Nikki Browne an artist
from Healesville, Claire Murray an floral designer from Belgrave and Ilana Greener an illustrator from Sherbrooke.
"My vision for the documentary was to archive local artists experience of lockdown. I wanted to showcase raw talent because artists have been negatively impacted by lockdowns and in the Covid experience and I also wanted to showcase the beautiful area that we live in."
But the documentary's path also leads down a place of wellbeing and hopes to invites viewers to nurture their creativity.
"I'm encouraging people to consider their own well being. That's by investing in creativity, social connection in local communities, and also with nature, or other things that they love. There could be animals, it could be unique hobbies. But there are many ways you can create a life of happiness, even if that's online at the moment, by considering your well being and giving it a priority."
"I would encourage all people to embrace creativity, to express themselves, to self soothe, and to find joy. It's not just an escape, I think it's a genuine expression of your feelings and emotion and it's an opportunity to connect with other people and share your talents and your voice with other people."
Upwey resident Alana Langan was filmed for the story and shared her story as a creative designer within her business Ivy Muse.
"It's the silver lining, having something come from the pandemic that's beautiful and hopefully sharing our work inspires other people and also normalises how we all felt through the pandemic as well. I think it's a really beneficial reason to do something like this documentary," Ms Langan said.
In the film, Ms Langan dives into how her family fed gratitude into their daily rituals and 'just keep swimming' became a mantra to live by.
"It's super hard and it sucks, and sometimes you just want to go out and just have a normal life again, but it's focusing on really being grateful one day at a time that got us through."
Each of the five creative stars also addressed where they live and how nature and the Yarra Ranges plays a vital role in their work.
"Writing my recent book, it was all about cultivating well being at home with plants and it really is an expression of so much of what I have experienced here living in the hills.
"It's about being able to have windows that you can see through clearly that you don't have any furniture or any objects in the way so you can enjoy that view – it's all of that kind of stuff that's connected with nature and what your environment is around you, as well as connecting with plants indoors."
The documentary will be available through the live launch on Instagram handle @pearleyjones on Wednesday 27 October at 6.30pm.