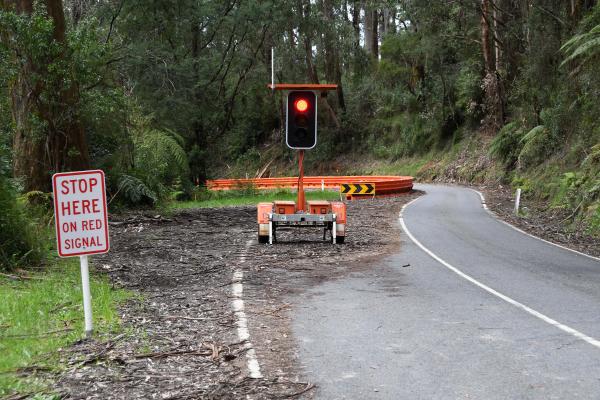 By Renee Wood
There's concerns popular tourism destinations around Warburton will be affected over the summer due to landslips and potential road closures.
There are currently landslip sites on Acheron Way in Warburton East and Donna Buang Road in Warburton, both roads leading to visitor drawcards including the Mt Donna Buang summit, hiking trails and lookouts.
Each site has temporary traffic lights to manage flow however, Warburton Valley CEDA (Community Economic Development Association) is concerned over restricted car access and road closures if works begin.
"They're landslips at the moment that are either completely blocking or restricting access of cars, and certainly when they go to fix a couple of these things, the roads will be closed for goodness knows how long and we're not sure about that," President Phil Wallens said.
It's believed the landslips have been there for a few months and the sites are inspected twice weekly and after heavy rainfall to ensure safety conditions.
"These roads are very important, a lot of people will want to use them during this coming summer."
Significant structural engineering works are needed including the installation of retaining walls, damaged pavement removal, asphalt relaying, and drainage improvements.
A Department of Transport spokesperson said their teams are working on the project.
"We're undertaking detailed design work ahead of repairs to Acheron Way and other sites affected by landslips in the Yarra Ranges," they said.
Biodiversity, cultural heritage and planning permit requirements are key components of what must be done before works commence.
"We thank the community for their patience as we continue to safely plan works to remedy the landslip, particularly as we begin to see more motorists on our roads."
Electronic signs have been placed along the Warburton Highway in Warburton, Don Road in Mount Toolebewong and the Maroondah Highway in Narbethong to advise heavy vehicle operators that the road is currently unsuitable for trucks.