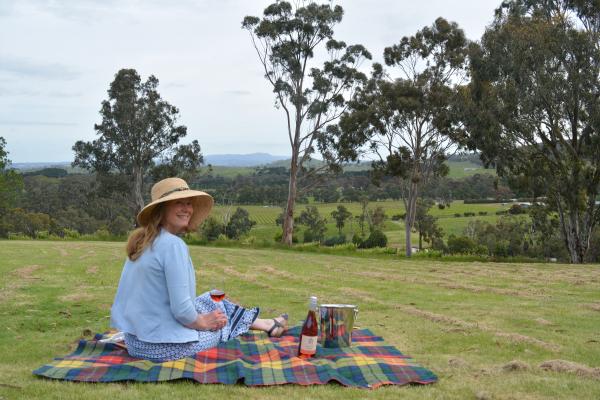 By Renee Wood
It's no secret that the Yarra Valley region is filled with world ranking wine producers, and something many of them do best is produce Rosé.
Now the region is celebrating the perfect spring sipper through the Rosé Evolution, with both dry and sweet blends on offer from producers.
Wine Yarra Valley coordinated the festival, hoping to shine a light on the many producers here in the region and entice a blitz of visitor activity following a time with little action from the lockdowns.
Sutherland Estate is taking part in the festival, hosting a picnic on the grounds at its cellar door.
"We've been closed a long time, so it's a real opportunity for us to get a few people in and have people stay around in the valley as well," Cathy Phelan from Sutherland Estate said.
There is something that tickles the taste buds for everyone, whether you're going sky high for a drink in an air balloon, or curling up on the lawn at one of the many spring soiree picnic parties being held.
Sutherland Estate has also put forward a picnic option, expecting being outdoors is still of high demand from patrons.
"I think people are still a bit skeptical about having big crowds in small inside rooms, so this will encourage people to be outside and be socially distanced but safe and still having a fun time."
Ms Phelan said Rosé has come a long way and many people are enjoying the drop.
"The old fashion Rosé, which were very sweet and lolly water almost now these days most of them are dry, so they're fully fermented. dry, no residual sugar at all left in the bottle.
"There are a multitude of different varieties so they can be made from any red grape, the traditional roses are all made from red grapes so quite often it's Pinot in the Yarra Valley that is used."
Wineries are also using the events as an opportunity to showcase their new wines that have been in the making, while closures have been in place.
"We're actually doing a Tempranillo which is something really different. We grow Tempranillo on the property here and we decided this is the first year we're actually trialing it so that'll be just released for the evolution."
A launch event will be held on Saturday 20 November at the Healesville Hotel with a collection of winemakers coming together to share their wines, and other events will follow until 28 November.