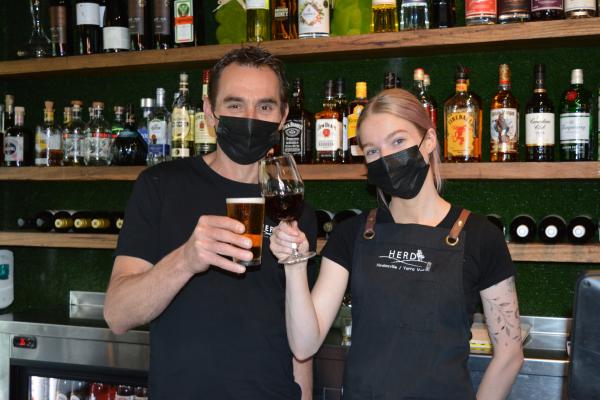 By Renee Wood
Today marks the first day hospitality and retail businesses have been able to operate without any density limits following the State Government removing most restrictions at midnight last night.
Changes made include opening up dance floors and no density caps at café, restaurants or retail stores for double dosed patrons, meaning you can stand up and have a drink and a boogie at a bar.
Herd Bar and Cafe owner Toby Wiadrowski said it's provided a sense of relief however, it's also brought mixed emotions as staff and businesses adapt to a new normal.
"It's a whole new layer of challenges and re-adjustments for everyone including the staff, because it's fantastic to be able to have more patron capacity but there's also challenges associated with running the business, it's just another adaption we all need to make especially for our staff," Mr Wiadrowski said.
The venue can now have up to 100 patrons in line with its license, although Mr Wiadrowski said Herd will ease into the maximum seating while staff and the community adapts.
"We ask on behalf of our staff for people to still be patient with us because there's been a lot of change. Things have moved really quick in the Covid journey and we understand everybody's excitement that we're now all fully open again, but we just ask people to be weary and mindful of the people that are trying to provide that service for them as well.
"We're also very aware of our patrons perception, Covid is still in the community and we don't want our patrons feeling unsafe.
"At the end of the day, we're still at 1200 cases a day and we're all vaccinated, which is amazing, but we still have to be mindful of the community as well so not just ourselves as a business."
The retail sector is also thrilled to have no density limits now especially in the lead up to Christmas, but only full vaccinated customers are now allowed in non-essential stores.
Owner of Glenda's Candle Gift Glenda Crofts said so far the reaction has been positive.
"We've been really well supported by the local people as well as by the tourists, so the further easing of restrictions is good. It just makes it a little bit tricky for small businesses having to check [vaccination statuses] at the door," Ms Crofts said.
"It does put us in a situation if someone's wanting to come in store and you've only got one staff member in store they then get put in an awkward situation, which I think is really tough. Most people seem to be happy enough to QR code check in and show you that they're vaccinated, so it's positive so far."
Alongside the easing of restrictions on businesses, also comes changes to the way Covid-19 cases are handled.
The Health Department won't be tracing or contacting close contacts and no exposure sites will be listed, instead the Service Victoria app will alert patrons of higher-risk venues where positive cases have been present.
Those who've tested positive will be provided with advice on how to inform their 'social contacts' on what to do, with these contacts required to get a standard test and isolate until a negative result is returned.
These contacts will be required to get a standard (PCR) test and isolate until they get a negative result.