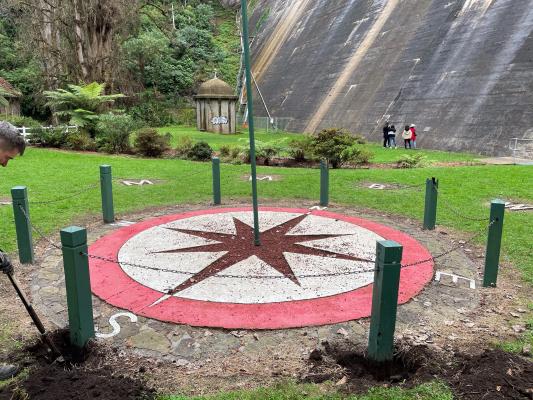 By Renee Wood
Friends of the Maroondah Reservoir Park are hosting a working bee this Saturday 27 November to rejuvenate the historic sundial near the dam wall.
Group coordinator April Meredith said the structure has been there since the early 1950s and needs some maintenance to bring it back to life.
Four wooden posts are in need of repair and the pavers will also be spruced up with a new paint job.
"The poles are disintegrated and the pavers are really losing their sheen and their colour," Ms Meredith said.
It's been a project the volunteer group has wanted to tackle since it reformed in February this year.
"We've had the goal basically of making this park come back to life and restoring some of the historical elements of it, and this is one of the really big features because everyone is drawn to the dam wall itself and then you've got this sundial right next to it that's basically falling apart and needs a little bit of love."
Ms Merideth said the group is grateful Badger Creek Men's Shed has come on board and has built and donated the wooden posts and Bunnings has also donated paint for the posts and pavers.
"We're a newly founded volunteer group ourselves, so the Friends of Maroondah don't have any funds, and it's great Badger Creek stepped up and helped us out.
"Bunnings has also made this possible, which is just amazing."
Local residents interested in the project are invited to come along to the working bee on Saturday or attend other future working bees on every fourth Saturday of the month.
"We're very flexible, they can turn out to as many or as little as they like. If they have a specific interest, such as painting the sundial they can just come along for this then that's no drama, or if they have specific passions."
Other projects the group's looking to embark on are revitalising the rose steps, clearing weeds and graffiti.
"We try and give people the flexibility to do what they enjoy the most, like others enjoy the weeding, others enjoy just actually mulching. While we might have overall goals, we don't limit people and how they can contribute."